Blogs & Messages
Solo Living
Solo Mom
Solo Traveler
More for Solos
Our Own Romance Novel
Our Own Travel Novella
Solo Traveler Features/TipsArchives
Scroll down to read all, or click on ..."Off-Season" is In! ... Renting During Indian Summer ... The Azores ... Avoiding Airport Hassles ...(2007:) What's New in Grenada ... Medical Overseas Travel ... Be a Good Houseguest ... Vacation Trends ... ... Fashion Ideas for Cruising ... CA Wine Trips ... Brandywine Valley ... Tour Alaska ... Canadian Arctic ... Summer in FL ... Merida, Yucatan ... Dream Resorts ...Colombia, Montana, Amsterdam for Gems ... 5 Moroccan Delights ... Take the (Pool) Plunge ... Southeast AZ & Monterey, CA ... Mexico's Beaches ... Getting Around in Winter ... Walks in Traverse City, MI ... Germany's Cold-Weather Sports ... Air Security Concerns & Liquids/Carry-On Rules ... (2006:) ... Bold Berlin ... Whale Watching & Day of the Dead: Autumn in Mexico ... VA's "Crooked Road," The Old Yellowstone Highway, Mt. Washington, NH: 3 Great Fall Drives ... Ghostly B&Bs ... Take it All Off! ... Quick Summer Ideas ... 10 Solo Travel Tips ... Hot Travel Packages ... NY Fantasy Hotels
(To see current Solo Traveler entries, please click here for Features/Tips.)
Welcome Fellow Solo Travelers!
Here on Features/Tips archives we offer classic articles which have already appeared in the Solo Traveler Features section: solo travel trends, great destinations, in-depth interviews, and smart ideas.
Some of the info may be out of date but you can take away great ideas and links!
And to find past short-takes on travel, tours getaways and special solo opportunities, check our super Solo Traveler tours/trips/links archives section, written by expert Janet Rodgers.
Happy Travels, whether traveling alone, with family, girlfriends or a lover.
... Lea Lane
Jump In -- Off-Season
by Lea Lane
Whether for business or leisure, off-season travel can be right-on for solo travelers if you're looking for better service, local festivities and great deals. And popular sites probably won't be overrun with tourists, so you can get to know a place as locals do.
Yes, downsides include bad weather, some closings, and such, so you'll have to work it out. But in travel, as all things, the greater the risk, the greater the reward. To minimize that risk, some suggestions:
Read up. Check out rainy seasons, average temps and such. You may not find them as daunting as you imagine, especially if you're prepared with gear, layers, and a list of indoor activities. (Rainy season often means rainy afternoons. Plan accordingly.
Be flexible. If your schedule allows you to pick and choose, take advantage and be willing to do the off-beat, off-time. Remember that seasons are opposite in the southern hemisphere, so you can ski in July in Argentina and warm up in Sydney in February. Know your destination, think creatively, and make the most of it.
Take advantage of opportunities. Check out off-season deals. Reserve a larger room, knowing you're getting the biggest bang for the buck. Upgrade, because there's room to and besides, you'll be saving on fares, or be able to spend those hard-to- use frequent flyer miles. You can dine at the best restaurants –at tables you'd have to reserve months in advance, if indeed you could get a table in high season. You'll be pampered by staffs that aren't frazzled. You can get tickets to the most popular shows, last-minute.
Stay comfy. I was conducting writing workshops for an oil corporation in Houston, in August. The temperature hovered around a humid 102 and I was frustrated, stuck in my hotel. After maybe the fifth pay-per-view movie and sixth dip in the pool, I decided to venture out --but only in the early morning and evening --for walks. I dined at fine restaurants near my hotel, and stayed cool as a Margarita. The trip wound up win-win, because I made it so and didn't push my limits.
Hang where locals do, and do what they do. Take a siesta in the heat of the tropics. Buthe fleece vest you see others wearing; it probably fits the local climate. Walk indoor paths in winter and stroll the shady sides of streets in the heat, or take an evening jaunt just like the locals. And enjoy festivities, customs and natural wonders that you otherwise might overlook in-season when crowds are daunting.
Three of the many destinations which maintain off-season charms, right now:
Most national parks experience a significant drop in visitors fall and winter. This "Quiet Season" is special for serenity amid natural grandeur. (At Yosemite for example, visitor numbers drop to about 200,000 in November, from 500,000 in August. The Grand Canyon gets roughly 170,000 visitors in January, compared with up to 600,000 in July.)
Off-season you can actually enjoy vistas without having to hear groups chit chat about real estate and stock prices, and you may even see animal critters which get scared off by crowds. Book a room at the finest lodges, often reserved years ahead, in-season. I've been to the Grand Canyon three times, and then best time for me was in January when I felt the awesome solitude.
In the Netherlands in winter, the wind can be raw across the Zeider Zee. But hey, this is the land of Han Brinker, and if you or your kids ever dreamed of ice skating, grab a wool scarf and mittens, and go. Most small towns offer picturesque outdoor rinks, where you can rent skates, and end your experience with Dutch hot chocolate. You'll feel a part of a scene that's as classic as it comes. Indoors, some of the world's greatest museums feature local boys Rembrandt, Vermeer and Van Gogh. And you can get into the Ann Frank museum in Amsterdam without standing in line.
Italy, like most European countries, can seem like a tourist park in the summer, with guides leading tee-shirted throngs in a cacophony of languages. But off season, you can enjoy this glorious country with the Italians; you don't have to wait for hours to see the Sistine Chapel or Uffizi gallery. Pasta and wine taste even better in the cool. You can stroll the gorgeous paths of Cinque Terre without getting jostled, and in most of the country the weather is fine for walking: mistily, cozily, emptily romantic.
_____
Top Winter Festivals Around the World
Barbados Jazz Festival: This grand festival takes place January 14 to 20, 2008. Jazz performed by talented artists and bands. This year's attraction includes Erykah Badu and Bob James.
Carnival: The annual Carnival of Rio de Janeiro is a four-day extravaganza, from February 2 to 5, and includes the usual flaunting of glamour and beauty. Location is the Praça General Osório, a minute's walk from Ipanema Beach.
Buenos Aires Tango Festival: The celebration involves some of the best tango dancers in the world. February 22 to March 3..
Las Fallas: This Spanish festival scheduled during March 15 to 19, in Valencia, includes puppets in the shape of celebrities and politicians, hung in almost 350 spots. The strangest activity includes setting a house on fire!.
Carnevale: The Venice Italy celebration takes place just before the Christian period of Lent. Masked balls, parades and fireworks accompany the jubilation. January 25 to February 5..
Sundance Film Festival: Movie-freaks and celebrities feel at home here. The tickets cost $10 each and movies are screened to the audience. January 17 to 27..
Mardi Gras: The New Orleans classic offers colorful parades and a range of gorgeous activities. The festival lightens up the city. January 19 to February 5, 2008.
Winterlude: In Ottawa Canada guests enjoy a range of amusements in the Snowflake Kingdom, the largest snow playground in the continent. The festival continues throughout three weekends, from February 1 to 17.
Polar Bear Jumpoff and Ugly Fish Toss: For the welfare of the American Cancer Society, the Polar Bear Jumpoff and Ugly Fish Toss is celebrated widely throughout Alaska. Activities include diving into 35-degree water, oyster slurping, dog-sled racing, and ice bowling. January 18 to 20..
Winter Music Conference: A great venue to enjoy the heat of Miami, the festival - a blend of music, fun and ultimate entertainment - is a hub for music lovers and professionals from across Florida. March 25 to 29.
_____.
Renting During Indian Summer? Some Ideas!
by Christine Karpinski
Hit the (snowless) slopes! Obviously, if you're looking to hone your slalom skills, this isn't the best time of the year to visit ski resort towns. But if it's a great vacation deal (rates are usually about 25% less) you're looking for, the off season is the time to go. Despite the lack of perfect skiing conditions, there are still a number of ways to enjoy the great outdoors in these areas.
The ski resorts in Colorado, Utah, Stowe Mountain in Vermont, or Hunter Mountain in New York (just to name a few) are not only beautiful locations, but the areas offer something for everyone to enjoy,
You can soak up some cool mountain air as you take to the fabulous trails in these areas either on foot, on horseback, or on a mountain bike. Also, because these towns thrive on the money they receive from tourism, they work hard to keep bringing vacationers in by holding cultural arts and crafts festivals during the summer months that are fun for the whole family.
Make the most of the new school calendar loop hole. Over the past few years, many school districts, specifically those on the southern side of the Mason-Dixon line, have passed laws prohibiting schools from starting any earlier than the last week of August in order to lengthen the tourism season in these areas. This change has given many families three to four more weeks of vacation each year.
While the schools have extended their summer breaks, many vacation rental home published rates still mimic the older school calendar summer dates when kids went back to school in early August.
That means many property owners still reduce their published rates by 20-30 percent in August because they're still used to August being a slow rental month. These areas include locations such as North Carolina, most of Florida, Tennessee, and the beaches of Alabama, and desert locations in New Mexico, Nevada, and Utah.
Keep your eye on Florida. This state, which houses a number of choice vacation spots—Miami, Ft. Lauderdale, and Panama City just to name a few—is actually cheaper this time of the year. Tired of the humid temperatures, many Floridians head for cooler mountain locations during the late summer/fall. And to make a little extra money, they rent out their properties while they're gone. With just a little searching you can be enjoying a bargain vacation on South Beach in no time.
Some vacation homeowners will downsize their rental property for you. Everyone has seen those huge houses on or near the beach that have four or more bedrooms. These usually rent for a pretty penny during the peak of tourism season, but after the season slows down in August you can find great deals in these homes. To keep bringing in rental dollars some vacation homeowners will lock off some of the bedrooms and rent their home for a rate that is comparable to how many rooms are available. It's a great way to spend your vacation in a beautiful property, and rather than squeeze the family into a hotel room, you'll all have some room to roam.
Take advantage of the cheapest dates. Always take advantage of mid-week pricing. If vacation homeowners couldn't rent a property for the full week, they'll sometimes reduce rates to try and get some renters in to finish out a week. Or hold off on your vacation until the very end of August or early fall.
The absolute cheapest weeks to rent vacation homes are the last week of August, the second or third week of September, or the third or fourth week of October. These offer great opportunities for anyone who slipped up and forgot to plan their vacation or for anyone looking to treat themselves to a bonus vacation when the summer has officially come to an end.
It's the perfect time to vacation overseas. If you're not stuck in the midst of the current passport waiting game, and already have yours ready to go, right now and the next couple of months are great times to spend some time in Europe. There are great specials available in less-frequented locations such as Alicante, Spain; Lisbon, Portugal; and Vienna, Austria.
And you won't have to worry about outrageous air fares. Many airlines have already started reducing their rates. With just a little research and planning, you will go from having no vacation to spending yours sight-seeing in a unique European location.
Christine Karpinski is the author of How to Rent Vacation Properties by Owner.
_____
The Western Azores: Islands Across the Atlantic
The archipelago of the Azores, the closest point in Europe to New England, is made up of nine islands. They offer sapphire blue and emerald green lakes, fertile prairies, volcanic cones and craters, colorful hydrangeas and azaleas, 15th century churches and majestic manor houses.On the beach at Faja de Baixo, you can imagine nothing but water between you and the eastern coast of the United States. Behind you, 40 waterfalls cascade down soaring cliffs.
Flores, and its tiny neighbor Corvo. make up the western group of Azorean islands – over 150 miles from the central group.

Flores western coast is a flat slice of land called a Fajã, running from the cliffs of the mountain plateau to sharp black rocks and beaches along the Atlantic. Tiny towns, with white-washed houses, flow to the sea, and a dozen of waterfalls splash from the cliffs behind them. In this mild climate, there are cedar forests, tidal pools, and trails to climb to the waterfalls; even ponds to swim in at the foot of waterfalls.

The central mountain plains are dotted with seven crater lakes, all easily accessed by foot or car, all at different heights. The landscape here is like an English moor, with hydrangeas that follow the roads that rise fall with the green landscape. Sheep, goats and cattle graze amid the dark crater lakes, and rabbits dash back and forth from the brush.

The southern coast is home to the former whaling town of Lajes Das Flores, where the black ramp leading up to former whaling factory is still the best way to the rocky beach. Old tripots and whaling implements are on display at the factory. Nearby restaurants serve the fresh catch of the day, and 19th century church crowns over the village.

Follow the ocean road north through cedar forest to the main town of Santa Cruz on the east coast. The small island of Corvo, shaped like a giant tear, floats 30 miles off the coast, its 300 inhabitants living in the island's only town, Vila Novo do Corvo. The wild and open place is accessed by a 10-minute flight, ferry, and by tagging along on a local fishing boat.

Pleasant, white, and riding high black sea cliffs, Santa Cruz offers most of the island's simple eateries --many run by fishermen and their families -- as well as a whaling museum (with lots of New England artifacts and bottles of whale oil), and numerous churches. The town offers a few basic hotels, and plenty of activity in its ports.

Follow the road north along steep sea cliffs to the northern town of Ponta Delgada, with its lighthouse and open coast. Trails stretch back miles to the south coast, perfect for hiking. There is no access for cars, and the landscape is green, wild, and natural. No village or sign of life can be found for miles, as the centuries-old footpaths lead through waterfalls, and striking sea views back to the westernmost coast in Europe.

Where to Stay

Most hotels are comfortable, affordable and near the sea. But two places stand out for authentic experience:

Aldeia da Cuada - Cuada was a tiny village whose residents emigrated for a better life decades ago. When Carlos and Teotonia Silva started to buy up the ruined houses, the place was overgrown, its ocean views no longer viable. Over two decades they bought and restored 15 of the towns' 17 houses (one is still in the hands of a family, the other is a chapel), and made them into simple one-and two-bedroom cottages. The Aldeia (or village in Portuguese) has the feel of an ancient town, with rough stone paths (no cars allowed) open fields, and stone houses -- all with kitchenette, and furnished in period antiques.

Prices are less than $100 per night and the town is connected by a new road, and ancient paths to the nearby towns Fajã Grande and Fajazinha. Views to the west are of the sea, and to the east of the waterfalls. Web: www.aldeiadacuada.com

Casa Paraiso- This old home has been restored as a bed and breakfast, overlooking the sea. The rooms are all dressed in antiques, and the house has amazing views. It is run by a former pilot, Jacinto Avelar. www casaparaiso.port5.com

Azores Express, a U.S.-based tour operator and member of the SATA Group, offers direct flights on wide body A310 aircraft to São Miguel, the main island in the Azores archipelago, with connections to Flores. Connecting flights from São Miguel are also offered to Lisbon and the island of Madeira. Azores Express has connected New England with the Azores and mainland Portugal for more than 20 years. The carrier is part of the SATA Group, which connects the Azores, an autonomous region of Portugal, with the world.
www.Azores-Express.com. For more info about the Azores Islands, visit Portugal's official tourist board site at www.visitportugal.com and www.drtacores.pt.
_____
Here's a guide, especially helpful for solo travelers:

Lost Luggage

The travel Web site Airfarewatchdog.com provides links to each airline's contract here.) But there are so many exclusions to these rules that in the end, the airline can pretty much give you however much they want.
If an airline loses your bags permanently, for example, you are entitled to up to $2,500 in compensation for domestic flights. (For international flights, you can be compensated up to $9 per pound of luggage.) But most airlines refuse to cover jewelry and valuables, electronics, fragile items, prescription medication, or any business-related items, such as merchandise.

Even for items you can be reimbursed for, such as clothes, you need to provide receipts. And then depreciation kicks in, where each airline determines how much of the clothes' original price you'll get back,
That said, most airlines also have policies in place to reimburse passengers for necessities until they're reunited with their bags. .Delta Air Lines, for example, offers $25 a day for up to five days of mishandled bags. It's awfully hard to put together a vacation wardrobe on that. Other airlines, particularly European ones, can be more generous.

Stranded at the Airport

First, find out what caused the problem. If it's a carrier-caused delay, such as a mechanical problem, you have a much better chance of getting a reimbursement from the airline, such as meal or hotel vouchers or even a full or partial refund of your ticket. (Again, this is outlined in each airline's Contract of Carriage.) But with circumstances not under the airline's control -- weather conditions, airport strikes or, for that matter, any "act not reasonably foreseen" by the airline -- it's up to that gate agent to fulfill your requests.
In either case, the airline isn't required to compensate you in any way. (The only exception is if you're "bumped" from an oversold flight: You're entitled to up to $400.) And then it's all about being proactive. So be sure to ask for compensation.
Consider calling the airline's 1-800 number instead of lining up to rebook a fflight with a ticketing agent. Or buy a day pass to the airline's airport club -- typically $40 or so -- where you can talk with an agent with no line whatsoever.

The Disgruntled Flier's Survival Kit

1. Always have a copy of the airline's Contract of Carriage with you.. Vague as they are, it helps to know your rights.


2. With delayed or canceled flights, try rebooking on the phone.

3. With lost bags, fill in all paperwork on the spot and ask the airline about its reimbursement or daily allowance policy.

4. If you're packing valuables in your luggage, consider buying additional luggage coverage from the airline. It will cost you a few extra bucks -- the typical charge is $6 per $100 of value -- but you'll get a special sticker on your bag and chances are, it will be handled more carefully.. At Delta, you can bump your insured value up to $3,000, for example, for a $30 fee.

5. Play your status. If you have elite or higher status on an airline's frequent-flier program, be sure to mention it to the gate agents. "You might get somewhat more ambitious customer service because that identifies you as a more profitable customer," says Tim Winship, editor of the Web site FrequentFlier.com.

6. Complain. Once home, don't hesitate to write the airline about your negative experience. But be reasonable and specific with your demands. Click here for airline customer service contacts.

7. Be persistent. If you're unhappy with the response, write again and escalate your case. If you don't get results from the airline, file a service complaint with the Aviation Consumer Protection Division (ACPD).
_____
What's New on the Caribbean Isle of Grenada
Solo travelers are sure to benefit from the following transformations taking place in accommodations, attractions, transportation, and infrastructure.
The Port Louis Project, in St. George's, Grenada, will offer a wide range of options, not only for tourists, but for investors, yachtsmen, and prospective homebuyers as well. Once completed, Port Louis will include a 350-slip world-class marina, yachting facilities for yachts up to 90 meters, 36 estate lots for individual houses and 280 residential units, and a 120-room, five-star hotel including a luxurious spa. Along with these seafront renovations, a mid-range, 120-room hotel will be built in order to cater to all aspects of the tourist market. The project will also revitalize Pandy Beach, including extensions, diving, water sports, and more. For more information, visit http://www.portlouisgrenada.com/.
This $600 million project in the tourist area of Morne Rouge and Grand Anse, aims to transform the Cinnamon Hill property to a first class hotel, retail, recreational, and residential development that will offer a luxurious vacation for all. The property's name has been changed to Mount Cinnamon on Grand Anse Beach. The developer of both this and the Port Louis project, Peter de Savary, plans to completely renovate 21 apartments into luxury villas. These accommodations will include amenities such as a pool and clubhouse and will ultimately result in the creation of a 200-room hotel with beautiful architecture and a tropical atmosphere. The natural beauty of Grand Anse Beach will enhance the surroundings and be unharmed during the landscaping of this project. Tourists interested in fractional and whole ownership will have the opportunity with 300 units aimed at this residential market.
The Prickly Bay Waterside development sits at the water's edge of the Lance aux Epines peninsula in the southern end of Grenada. Scheduled to begin during the second quarter of 2007, the Prickly Bay Waterside project is a residential resort that encompasses luxury lifestyle. The new residences will entice any tourist with the modern architecture, designer furniture, plasma televisions, and contemporary entertainment centers. A main attraction of Prickly Bay Waterside is the marina-style vision, which will feature natural spaces and open-plan bathrooms. Even the bedrooms will have king-sized beds and plush linens to satisfy every tourist's relaxation needs.
The overall facility will have a fully equipped gym, spa, swimming pool, boutique, dive services, meeting rooms, and a business center. Services include a 24-hour concierge, airport transfers, butler service, room service, wedding hosts, Wi-Fi Internet, laundry, pillow menu, bath menu, dockage and marine fuel service.
The lavish resort at Bacolet Bay on the eastern coast of Grenada is an investment opportunity that combines five-star luxury with endless options for leisure and relaxation. The project, launched in late January of 2007, will include 43 acres of tropical gardens, a white sandy beach, and a secluded bay in an exclusive setting. All owners will have full access to the spa, fitness and sports centers and to the beachfront bars and restaurants, which will offer the finest local and international cuisine in Grenada.
The entire resort has been designed around the country's flora and fauna in an effort to uphold the natural beauty that this pristine atmosphere offers tourists. To enhance the natural experience visitors will get at Bacolet Bay, there will be limited vehicle access and hiking and biking trails for adventure seekers. Ocean lovers will have plenty of watersport options that include windsurfing, snorkeling, and diving amongst the coral reefs. Bacolet Bay will offer dozens of holistic spa treatments overlooking the bay, and the white sandy beach will entice those who love the sun. Each studio apartment or deluxe villa will be created to blend with the surrounding tropical foliage. For more information, email info@propertyfrontiers.com.
The Mount Edgecombe Plantation project aims to restore a beautiful working plantation in St. Mark's parish of Grenada. Through this project, the western coast of Grenada will be revived with the growth of every fruit and vegetable that can grow on the island. Added initiatives include Grenada's first eco-holistic spa that will be in addition to the spa and well-being center at Port Louis. It will include 20 guest rooms and spa services that will take visitors back to the serene and organic ideals of nature, while being pampered in a rainforest atmosphere.
The end of 2007 should bring great advantages and services to privately owned aircraft traveling to Grenada. These changes will compliment the services already provided by the International Airport in Point Salines. There will be a V.I.P. lounge with dedicated customs and immigration personnel for quick, easy arrival and departure of mainly private passengers. A restaurant and bar will also be added to accommodate travelers so that they can relax in a picturesque setting before their flights. The restaurant will be open to other executive passengers as well. This project hopes to give Grenada an added bonus as a destination that is welcoming for all private airline owners.
Plans are in the final stages so that the waterfront Carenage area in St. George's will be illuminated at night. Tourists will enjoy the luminous atmosphere as they stroll the streets of Grenada. This plan hopes to be implemented in the beginning of 2007.
Other Refurbished Attractions: The Grand Etang Welcome Center and Park, along with Fort Frederick and the Annandale and Concord Falls, have been refurbished and continue to welcome visitors. The Concord Waterfall attraction has received new toilet facilities and vendor booths, to enhance the needs of guests.
In northern Grenada, the construction of a heritage project at Leaper's Hill will provide tourists with a history of the native people of Grenada. This project will allow tourists to learn about the customs and lifestyles of the past.
In preparing to host major sporting and cultural events in 2007, specifically the Cricket World Cup, the construction of a state-of-the-art multi purpose national stadium with a capacity to comfortably accommodate 15,500 seats is almost completed. A home-stay program is also being implemented to accommodate visitors coming for the events. More than 1,000 rooms have been approved among the offerings that visitors will be invited to choose from and it will allow tourists to feel at home during their visit.
For more information on Grenada's growing tourism sector, please contact the Grenada Board of Tourism at (473) 440-2279 or visit the Tourist Board's official website at www.grenadagrenadines.com.
_____
Tourist Rx: Solo Travel Overseas for Inexpensive, Quality Care
For surgeons in India, dentists in the Philippines, medical tourism is taking off -- and U.S. medical insurers are taking notice
by Jacob Goldstein
Vacation time isn't just for fun. Increasingly, people who have never left the United States before are traveling thousands of miles for complex medical procedures. The reason is, simply, money. Treatments that would drive many people into bankruptcy at home often cost only a few thousand dollars in the developing world.Added bonus: Medical tourists get to see another part of the world. But the risks can be significant. Imagine everything that can go wrong after surgery -- then imagine it going wrong in a strange city, 10,000 miles from home, in a country whose legal system may make it difficult or impossible to sue.
Still, the financial rewards are big enough, and the quality of care high enough, that growing numbers of Americans with limited or no insurance are outsourcing their medical care.Take the case of Tim Devinney, a North Carolina Realtor who needed surgery to close a hole in his abdominal wall. Devinney, who is in his 40s, did not have insurance, and a doctor told him the surgery would cost about $30,000.
He put it off, but his intestine kept squeezing through the abdominal wall -- an incredibly painful experience that sent him to the emergency room several times/ Then he read a newspaper story about a North Carolina company that helped people -- mostly middle class and uninsured -- find medical treatment overseas. A few months later, he was on a plane to Delhi, India.
When Devinney landed, a driver was there to meet him. But his medical liaison, who was stuck in Delhi's notorious traffic, was not. The driver didn't speak much English.
''The driver just dropped me off at the emergency room and these people did not know who I was,'' he says. 'The doctor was ready to start an examination and I was like, `No, you're not.' ''
His liaison found him a few minutes later, and shepherded him through the admissions process. The hospital was a bit shabby -- no air conditioning in the hallways, interiors that felt older than those in U.S. hospitals. Some nurses wore gloves when they touched him; others didn't.
But, he says, ``where they were way ahead was in patient care. . . . The night before I had the procedure, I had six doctors in my room for an hour, talking with me about the procedure, answering questions. That's unheard of here.''
The cost of the entire 10-day trip -- including airfare, the hotel stay and all of his medical bills -- was less than $5,000, one sixth what the procedure would have cost in the United States.
New Patients
In many ways, Devinney is typical of the new wave of medical tourists. In the past, those who traveled abroad for care often had family overseas, and typically went for minor or elective procedures, such as dental work or cosmetic surgery.To be sure, many still make such trips.
Abella Bayanos of Miami took her son home to the Philippines this summer after she learned that he needed dental work that would have cost $7,000 here. The whole trip, including the dental work in Baguio City and two round-trip tickets bought at the last minute, cost just over $3,000.
''For me, I think if there's any kind of problem again I'd rather go back to the Philippines,'' Bayanos says. ``It's a lot cheaper.''
More and more, though, medical tourists are going to unfamiliar countries for complex treatments such as orthopedic surgery and cardiac procedures. For the most part, these are working people who are under-insured or uninsured -- though this may soon change.
Several large corporations are considering adding overseas medical treatment to the range of options for employees with health insurance, says Dr. Arnold Milstein, of Mercer Human Resource Consulting, who has been retained by five Fortune 500 companies (he won't say which) to figure out whether outsourcing healthcare is a viable option in some cases. One option under consideration to make the trip more palatable: Covering all of the employee's out-of-pocket expenses, along with a round-trip ticket for a spouse or other caregiver.
Price discounts vary widely, but Milstein says savings of 60 percent are realistic, after factoring in roundtrip airfare for the patient and a companion, the cost of the procedure itself, and food and lodging during the recovery process. Anecdotal reports show even greater discounts.
Tough Standards
Of course, price is the easy part. More difficult is finding a hospital with highly trained staff, and the equipment and training to handle the wide range of problems that can arise during or after any medical procedure.
One useful indicator is accreditation by Joint Commission International, the international wing of the Joint Commision on Accreditation of Healthcare Organizations, or JCAHO, the most important source of hospital accreditation in the United States Joint Commission International was launched in 1998 and has now accredited roughly 100 hospitals in 25 countries, said Anne Rooney, JCI's vice president of consulting. She said the international accreditation standards are based on U.S. standards, with modifications that suit local customs and regulations.
Bumrungrad Hospital in Bangkok, Thailand, one of the best known of the JCI-certified hospitals, now claims more than 400,000 international patients (inpatient and outpatient) per year.
'You go to Bumrungrad's website and you say `I'd like to see a rheumatologist, or a gynecologist, or an orthopod,' '' says Claudia Auger, who retired from Miami to Bali and has been to the Bangkok hospital several times. ``There's a link to all those doctors. Then you can click on their name and up comes a photo of them and a full bio.''
Auger, who chose a doctor who trained at the Mayo Clinic, likes the customer-service side of Bumrungrad. ''You are not held to wait,'' she says. ``You are walked to your next appointment. When you go to pay for your whole procedure, they hand you any drugs that have been prescribed.''
Middlemen
In the United States, several small companies have sprung up to act as middle-men, helping U.S. consumers find doctors abroad. Stephanie Sulger, a nurse in New York, launched Medical Tours International five years ago, and now works with a team of doctors and nurses screening both overseas hospitals and U.S. patients.
She tries to warn off those who are too sick to make a long journey, or those with unsafe medical plans ''People are getting too much cosmetic surgery at one time,'' she says. ``They'll go overseas and get a complete body lift. The American Society of Plastic Surgeons has clearly said you shouldn't be getting this much plastic surgery at one time, even here.''
Despite the recent boom in medical tourism, the number of South Florida patients coming in for help for problems after an overseas cosmetic procedure goes wrong seems to be declining, according to Dr. Onelio Garcia, a Hialeah plastic surgeon who chairs the board of trustees of the Florida Society of Plastic Surgeons.
''There was a time around the turn of the century where this was a weekly event where some nightmare was showing up in an emergency room in this town,'' he says. ``We see it less now than we used to . . . I think people are more aware of the risks.''
The problem hasn't disappeared, though. And often, Garcia says, issues arise not because of incompetence on the part of the overseas doctor but because the patient does not have access to follow-up care and so does not address post-operative complications as soon as they arise. But even with risks such as these, the global economics of health care mean medical tourism will continue to grow, says Milicia Bookman, an economist at St. Joseph's University in Philadelphia who lives in Miami and is writing a book on the subject.
''Medical tourism has the possibility of being the great health care equalizer in this country,'' she says. ``You've got highly trained, western trained physicians using state of the art technology. What more do you want?''
Road to Recovery
For Devinney, the North Carolina Realtor, the answer might have been home sweet home. His surgery last year went well, and a few days later he moved into a nearby hotel. But he was alone, and the recovery proved emotionally difficult at times.
``Being in a strange country where you don't know anyone -- even though they're all very nice -- it's not the same. There's that loneliness.'' Despite that, he'd do it again, he says. ``I would recommend it to someone else. But I would say don't expect it to be exactly what you would get here. In some ways it is going to be better, [in others] it's going to be not as good.''
_____
Nine Reminders: How to Be A Good Houseguest
With the holidays here, many of us singles are invited to stay with family and friends. Some strategies for the modern houseguest:
Communicate clearly beforehand. If you are allergic or have special needs, mention them.
Don't overstay your welcome. Three days is great, but a week can be too much even with family. On visits longer than three days, be independent as possible.
Be flexible and listen to your host. Around the house, it's great to help out. But follow the hosts' lead. Their comfort level should prevail.
Bring a book or something to occupy yourself.
Don't automatically help yourself to food, but trust your hosts if that's what they suggest. Such as a cooler stocked with soft drinks.
Create as little work as possible for your host.
Follow directions. If your host says don't strip the bed, there may be a reason.
Always arrive with a gift, no matter whom you're visiting or how long you'll stay. Also, invite your host out for a meal, or several meals. Offer to pay for groceries.
Say thanks before, during and after the visit, and always send a thank-you note.
_____
A New Survey of Popular Vacation Trends
Below is a brief snapshot of data from the Voice of the Traveler survey by the Travel Industry Association and Synovate.
SPA VACATIONS: More than half (54%) of travelers said they were currently interested in going to a spa or a place where they can relax and rejuvenate themselves. Good news for the spa industry…interest appears to be growing. Almost a third (28%) of travelers said they were MORE interested now compared to five years ago in going to a spa or a place where they can relax and rejuvenate themselves. In fact, spa vacations ranked fifth when listing all the things people said they were MORE interested in doing now compared to five years ago. Among those who are interested in spa vacations, the majority (40%) are 35 – 54 years old; however, interest is also strong among 18 – 34 year olds (37%).
VOLUNTEER VACATIONS: One-quarter (24%) of travelers said they were currently interested in taking a volunteer or service-based vacation. More than one in ten travelers (11%) said they were MORE interested now compared to five years ago in taking a volunteer or service-based vacation. Interest was strongest among baby boomers, with the largest share (47%) of those interested in taking a volunteer vacation falling into the 35 – 54 year old age range.
CHILDREN-FRIENDLY DESTINATIONS: More than 35% of travelers said they were currently interested in traveling to places that cater to children. Among those who are interested, the majority (51%) are 18 – 34 years old, presumably young families with young children. Nearly one in five travelers (18%) said they were MORE interested now compared to five years ago in traveling to places that cater to children.
SPIRITUAL VACATIONS: One-quarter (25%) of travelers said they were currently interested in taking a spiritual vacation (e.g., religious retreat, pilgrimage). More than one in ten travelers (12%) said they were MORE interested now compared to five years ago in taking a spiritual vacation. The appeal of a spiritual vacation spans the ages, with approximately one-third of each age group (18 – 34 years old, 35 – 54 years old and 55+) expressing current interest in taking such a vacation.
ENRICHMENT TRAVEL: More than half (56%) of travelers said they were currently interested in taking an educational trip where they and/or their family can learn something. Nearly 22% of travelers said they were MORE interested now compared to five years ago in taking such a trip.
_____
Niagara: More than Just the Falls!
Even if you've traveled to Niagara Falls before, there are a multitude of new attractions for solo travelers to enjoy.
The Niagara region was an essential base of operations during three wars, and visitors can tour the recently restored Old Fort Niagara and dozens of museums and historic sites to discover the region's history.
Adventure lovers can dive beneath the turbulent waters of the Niagara River, take a Jet Boat tour through the Niagara Gorge, experience a helicopter ride over the Falls or experience the Falls from a hot-air balloon.
The region offers the renowned Niagara Wine Trail, with seven family-owned and operated wineries, offering distinct wines and culinary treats.
Niagara USA is one of the premier bird-watching locations in the world, with dozens of parks, islands and scenic driving tours. Niagara USA is also one of North America's top sport-fishing destinations.
Niagara USA is one of the few visitor-friendly working hubs of agriculture, with farm tours, petting zoos and more than 75 farms and nurseries.
Niagara USA has one of New York's finest luxury gaming establishments—the Seneca Niagara Casino and Hotel—with thousands of slot machines and table games, as well as luxuriously appointed hotel rooms and six restaurants.
The Niagara region played a critical role during the Underground Railroad movement, and visitors can now explore Railroad sites throughout Niagara County.
The Niagara region was essential to the completion of the Erie Canal, and the locks at Lockport played a key role in its success. The millions of gallons that pour over Niagara Falls every day are harnessed to generate a quarter of New York's and Ontario's electricity.
Lewiston, Lockport, Olcott, Newfane and the Tonawandas offer dozens of unique antique and boutique stores and delectable dining opportunities.
Niagara USA is experiencing a tourism renaissance, with millions of dollars of new investments planned for new hotels, attractions and a new visitor center.
Contact the Niagara Tourism and Convention Corporation at 1-877-FALLS-US or via t www.niagara-usa.com to request a free Visitor Guide or brochures about individual attractions.
_____
What to Wear on a Cruise? Here's Your Answer
The following summarizes the dress codes and suggestions for a number of the most popular cruise lines, whether you're traveling solo or with others :

Carnival Cruises

Formal dress or resort wear is required in the dining room. Proper formal attire includes a tuxedo, suit and tie, or sport coat, tie and slacks. For women, evening gowns, cocktail dresses and pantsuits are appropriate. Casual resort wear includes sport shirts and slacks, dresses, skirts and pantsuits. Shorts, t-shirts and bathing attire are not permitted in the dining room during dinner. Dress requirements for children in the dining room are the same. For those guests who do not want to dress up, the Lido restaurants are open nightly, with the exception of the last evening of the cruise, and have a more casual dress code.

Princess Cruises

During "smart casual" dining evenings, guests should dress as they would for a fine restaurant at home. This includes pants and open-neck shirts for mean, and skirts/dresses, slacks and sweaters for ladies. T-shirts, shorts, halter tops and jeans are not permitted in the dining room and shoes must be worn at all times. Formal evenings in the dining room require a tuxedo, slacks with dinner jacket, or suit for men. Women should wear evening gowns and cocktail dresses.

Holland America

Comfortable, relaxed clothing is appropriate for designated "casual" evenings. This includes jackets and optional ties for men, and dresses or pantsuits for women. T-shirts, swimsuits, tank tops and shorts are not allowed in the dining room, Pinnacle Grill, Lido Restaurant or public areas during evening hours. Swimwear is suitable for dining at the Terrance Grill near the pool. On formal evenings, suits and tuxedos are suggested for men, although jackets and ties are welcome; women wear cocktail dresses and gowns.

Crystal Cruises

The Crystal dress code applies to all public areas of the ship after 6 p.m.
Proper attire for formal evenings includes dresses and gowns of fashionable length for ladies, and a tuxedo, dinner jacket or dark suit and tie for gentlemen. Infomal attire is appropriate for most nights on board the ship. For ladies, evening dresses, cocktail dresses or pantsuits are fine. Men should wear sport coats and slacks, with ties optional. Casual nights are based on days in port and the time of departure. On casual evenings, more relaxed attire is appropriate, including casual dresses and pantsuits for women, sport shirts and slacks for men. Jackets and ties are not required.


Celebrity Cruises

Whether an intimate table for two or an elaborate table for many, appropriate attire is part of the overall evening dining experience on Celebrity cruises. Formal night attire includes a tuxedo, dinner or dark suit for men and evening gown or fancy dress for ladies. Informal nights feature a jacket and tie with slacks for guys and informal dress or pants and blouse for ladies. Gentlemen are welcome to wear a sport shirt and slacks, while ladies can wear a pantsuit or sporty outfit, on casual nights. Specialty restaurant dining requires a jacket and tie for men and dress or pants and blouse for women every night. Jeans, shorts and casual daywear are allowed in all dining venues before 6 p.m.

Regent Seven Seas Cruises

Shipboard attire on Regent Seven Seas Cruises ranges from informal wear to "Country Club" casual to formal attire. Country club casual (resort-style attire) is fine for daytime on board the ship and ashore, but shorts are not appropriate after 6 p.m. in any of the public rooms or lounges. Depending on the itinerary, evening attire also can be country club casual, informal (sport coat and tie recommended for men), or formal (black tie optional). The dress code for Alaska, Bermuda and Tahiti sailings is always country club casual. Bathing suits and beachwear is not allowed in the restaurants at any time.

The Yachts of Seabourn

Guests aboard the luxury ships of Seabourn experience the special
atmosphere of formal evenings and the more informal ambiance of other
nights. On formal nights, tuxedos and dark suits are appropriate for men;
evening gowns or other formal attire are recommended for women. Elegant casual evenings feature slacks with a jacket over a sweater or shirt for men; sundresses, skirts or pants with a sweater or blouse for women. Casual wear is welcomed in the Veranda Café on evenings when dinner is served there. This includes slacks and a sweater or shirt for gentlemen; skirts or slacks with a sweater or blouse for women.

The daily news bulletin posted by most cruise ships during voyages also includes the appropriate dress code for the evening's events.
_____

Romantic Wine Trips
Exclusive Experience Napa Valley – This package for two includes tickets to the renowned Lincoln Theater and a luxurious evening of perfectly paired dishes and unforgettable toasts at étoile Restaurant at Napa Valley's famous Domaine Chandon Winery. Priced at $296 per couple.
Casual Luxury –Vineyard Cottage in Sonoma Valley – The intimate Grape Leaf Inn provides a luxurious, yet relaxed stay in cottages surrounded by 80-year-old Zinfandel vines. Enjoy a generous wine and cheese tasting in the wine cellar and a picnic lunch to Armida Winery with private tour and tasting. Priced at $699 per couple.
Ultimate Vineyard Stay: Dry Creek Valley, Sonoma County– This "Exclusive Experience" in Santa Rosa, CA allows couples to enjoy wine tasting at the Ferrari-Carano Winery and a stay at Vintner's Inn, complete with an in-room therapeutic couple's massage and more. Priced at $1,100 per couple.
California Coastal Escape– The four-diamond Blue Lantern Inn at Dana Point offers gorgeous ocean views, romantic sunsets, two nights accommodations, dining in a selection of local restaurants, breakfast for two, afternoon wine, hors d'oeuvres and chocolate truffles. Priced at $450 per coupleClassic Wine
Country Romance, Yountville, CA –A getaway to this Euro-chic town features accommodations in Napa's French country inn, Maison Fleurie, gourmet cuisine from the famed Bouchon Restaurant, breakfast for two and afternoon wine and hors d'oeuvres. Priced at $285 per couple.
To view the entire list of "Top Ten Most Romantic Experiences" each week, go to http://www.winecountry.com/pr
_____
Brandywine Valley (Where PA and Delaware Meet) Offers Cultural Treasures
The Brandywine Valley, where Pennsylvania and Delaware meet just thirty miles southwest of Philadelphia, is home to art museums, historic sites, exquisite gardens and estates, charming villages, hip cityscapes, and restored industrial districts.
Galleries and antique shops, places to canoe and hike, backcountry roads, performing and visual arts to suit every taste, and a variety of accommodations and dining options round out the limitless subject matter.

Winterthur Museum & Country Estate, Hagley Museum, the Nemours Mansion and Gardens, and Longwood Gardens are part of the du Pont family's legacy of world-class estates and horticultural displays. Wyeth is the other name forever intertwined with the Brandywine Valley, thanks to the art of N.C., Andrew, Jamie, and other family members.
The Brandywine River Museum, Delaware Art Museum, and the Delaware Center for the Contemporary Arts exhibit of a wide spectrum of art, from traditional to cutting-edge, in venues as diverse as a former grist mill and a restored train factory. Experience the past at the Delaware Museum of Natural History, the Historical Society of Delaware, and Rockwood Park and Mansion.

Brandywine River Museum U.S. Route 1, Chadds Ford, PA 19317; www.brandywinemuseum.org.

Delaware Art Museum 2301 Kentmere Parkway, Wilmington, DE 19806; www.delart.org.

Delaware Center for the Contemporary Arts, 200 S. Madison St., Wilmington, DE 19801; www.thedcca.org.

Delaware Museum of Natural History, 4840 Kennett Pike, Delaware Route 52, Wilmington, DE 19807; www.delmnh.org.

Hagley Museum and Library, DE Route 141, Wilmington, DE 19807; www.hagley.org.
Historical Society of Delaware (includes Delaware History Museum in Wilmington and George Read II House and Gardens in New Castle), 504 Market St., Wilmington, DE 19801; www.hsd.org.

Nemours Mansion and Gardens, 1600 Rockland Rd., Wilmington, DE 19803; www.nemoursmansion.org.

Longwood Gardens, U.S. Route 1 at PA Route 52, Kennett Square, PA 19348; www.longwoodgardens.org.

Rockwood Park and Mansion, 610 Shipley Rd., Wilmington, DE 19805; www.rockwood.org.

Winterthur Museum & Country Estate, DE Route 52, Winterthur, DE 19735; www.winterthur.org.
_____
Summer 2007
As the temperature rises, grab your shades and enjoy a summer vacation in true Florida fashion. You'll find it all in the Sunshine State – entertainment, culture, and relaxation – and there is always something new to discover. (Listings are organized by city from North to South)
Attractions
AMELIA ISLAND – The Royal Amelia Golf Club is the newest addition at Amelia Island Plantation. It boasts immaculate TifEagle greens, well-manicured fairways and smooth bunkers. The acquisition of the club offers a total of 72-championship holes offered to the resort's golfers. (888) 213-8045. www.aipfl.com.
KISSIMMEE – One of Kissimmee's premier dinner attractions, Arabian Nights, has recently made its show even more magical. Among the additions are two genies, dazzling new costumes, 15 new horses, the magic of Michael Barron before and during the show and an expanded menu featuring a New York strip steak. (407) 239-9223. www.arabian-nights.com.
TAMPA – The Asian Gardens exhibit, one of the oldest at Lowry Park Zoo, has undergone extensive renovations to reflect the style and architecture of Southeast Asia, with new additions including a large free-flight aviary themed after the Indonesian island of Sulawesi. The zoo has also announced its addition of a spacious outdoor exhibit featuring a new colony of African penguins. (813) 935-8552. www.lowryparkzoo.com.
TAMPA – Pirates 4-D, a thrilling comedic 4-D adventure is the newest show to invade the Timbuktu Theater at Busch Gardens. The show stars Leslie Nielson and combines special-effects technology with multi-sensory theater effects to thrill guests of all ages. www.buschgardens.com
FORT LAUDERDALE – Three new IMAX experiences hit the six-story screen this summer at the Museum of Discovery and Science & Blockbuster IMAX Theater. Tour ancient Egypt during MUMMIES: Secrets of the Pharohs, opened March 30. Spider-Man 3, digitally re-mastered to fit the giant screen opened May 4 and Dinosaurs Alive! – a 3D tour of Mongolia's Gobi Desert with paleontologists from the American Museum of Natural History opened May 25. (954) 467-6637. www.mods.org.
MIAMI/KEY WEST – Board the Key West Express, a jet propelled catamaran launching from the Miami Seaquarium. No traffic, no long drive. Getting to the Southernmost Point is half the fun on the three-deck ship, which offers indoor and outdoor seating, onboard food with full bar service and flat screen TVs throughout. Return sail on the same day or on a different day. (866) 593-3779. www.seakeywestexpress.com.
Exhibits
PANAMA CITY BEACH – Titanic: The Artifact Exhibition will make its stop at the Visual Arts Center of Northwest Florida from May 25-Sept. 3. Hear the story again, and see hundreds of artifacts pulled from the wreckage. (850) 769-4451. www.vac.org.cn.
SARASOTA – The renowned Ringling Museum has opened a new wing which will feature two new exhibits. In Our Time: The World As Seen By Magnum Photographers will be held from May 19-Aug.12, and celebrates the innovation and excellence of one of the most important groups in documentary photography: Magnum Photos, Inc. Impressionists from the Brooklyn Museum will be on display from June 16-Sept. 16, showcasing 40 impressionist paintings representing French and American artists. (941) 359-5700. www.ringling.org.
Festivals/Events
DAYTONA BEACH – The Second Annual Daytona Beach Jazz Escape will be held Labor Day weekend, Aug. 31-Sept. 2. The outdoor festival will feature some of the world's top jazz and blues musicians. www.daytonabeachjazzescape.org.
Accommodations and Dining
DESTIN – The Palms Resort and Conference Center on the Emerald Coast is now open and accepting reservations. Two-bedroom junior suites, three-bedroom condos and ground-floor poolside villas accommodate every type of visitor. Trader Vic's restaurant is on-site, as well as a 12,000 square-foot lagoon pool and full service Polynesian spa, among other amenities. (866) 337-5159. www.abecresorts.com.
APALACHICOLA – Visitors to the quaint fishing village known for its oysters and old-world feel will soon be able to experience the luxury of a first-class vacation as well. The three-story 30-unit Water Street Hotel and Marina is set to open Sept. 1 and combines old Florida-style with premier amenities. The hotel-condo will offer guests and residents master bedrooms in each suite, crew quarters, two baths furnished in Hemingway décor, complete kitchens and daily or weekly maid service. Private verandas overlook the marshes and wetlands of the Apalachicola River. The hotel's two conference rooms provide enough space for 40 clients, friends or business partners. A 20-slip marina with floating docks, dedicated showers for boaters, WiFi, laundry and concierge service will sit next door. (850) 653-3700. www.waterstreethotel.com.
ORLANDO – Tuscana Resort, new this summer, offers 289 Mediterranean-inspired two- and three-bedroom condos. It's located only four miles from Disney World and offers impressive amenities including a $2 million clubhouse and pool complex with a poolside bar and café, a 25-seat private movie theater and fully equipped fitness center. (877) 448-8722. www.tuscana.net.
CLEARWATER BEACH – The $170 million, 253-room luxury Sandpearl Resort is scheduled to opened its doors in July. It will feature an 11,000 square-foot spa, fitness center and beach club, fine dining with Gulf views, 20,000 square-feet of meeting and event space and 117 condo homes. www.sandpearl.com.
CAPTIVA ISLAND – After 18 months of installing new granite countertops, euro-top bedding and flat panel televisions in the guestrooms, expanding the immaculate pool area to three times its previous size and adding a 24,000 square-foot high-tech meeting space, South Seas Island Resort has opened again. Also during the renovations, Captiva Island Golf Club was re-designed by Chip Powell as one of the Top Five Short Courses in the world. (877) 597-9696. www.luxuryresorts.com.
NAPLES – The stunning Naples Grande Resort and Club has recently put the finishing touches on a multimillion renovation. The waterfront resort is now home to 474 luxury rooms, multiple restaurants and lounges, and the first Golden Door Spa on the United States' east coast. www.naplesgranderesort.com.
MARCO ISLAND – The impressive and newly renovated Marco Island Marriott Resort, Golf Club and Spa now boasts an infinity-edge pool overlooking the Gulf of Mexico, new resort shopping, dining and golf clubhouse and renovated guest rooms. www.marcoislandmarriott.com.
_____
Merida: The "White City" Of Yucatan
Famous for its white-washed facades of colonial-era buildings, Merida is the capital of the Yucatan and serves as a gateway to Uxmal and the Puuc Zone, an area known for its prehispanic history and extravagant sissal haciendas. The city is built on a large plain, currently inhabited by three-quarters of a million people, and is characterized by colonial and French architecture, Caribbean atmosphere and Mayan cuisine, which make this place an enchanting destination. Merida is also a place of extreme weather, which easily shifts in one day from sunny mornings to fierce midday hailstorms and back to clear evening skies, perfect for a horse-drawn carriage tour of the Paseo Montejo

For a historical excursion, the Puuc zone is the most important archaeological site in Uxmal and is located approximately 50 miles south of the city. The Museum of Anthropology, in the mansion on Paseo Montejo, is another great place to visit for an interesting background on the city's Mayan history.
Architecturally, several buildings in Merida still preserve their colonial flavor, including Casa de Montejo, the Palacio Municipal and the Palacio de Gobierno, all magnificent mansions with baroque details and wrought-iron windows. For souvenir shopping, travelers can visit downtown shops carrying local handicrafts and artwork. The lively open-air markets held on Sundays at the Casa de las Artesanias, have a wonderful atmosphere and carry a variety of wooden, shell, leather and pottery handicrafts. A great way to explore downtown Merida's tourists attractions is aboard the trolley bus, "Carnaval," that cruises the historic area.
In the far northeast of the state, 60 miles outside of Merida, is the Celestun Biosphere Reserve, considered one of the most important wetlands in the peninsula. The area shelters a variety of unique species including sea turtles, crocodiles, monkeys, jaguars, white-tailed deer and several migratory birds such as the elegant pink flamingo. The reserve has an area of more than 80,000 hectares, consisting of two different climate and vegetation types - mangrove swamps and low forest.

The various flavors of the Yucatan peninsula are internationally renowned. Main dishes consist of pork - such as beans with pork or poc chuc - and poultry dishes like turkey with black stuffing. Other popular local specialties include lime soup as well as exotic drinks such as rice milk and Xtabentun - an anise liquor mixed with the nectar of the local Xtabentun flower.

Merida is a great place for a pleasant trip into Mexico's prehispanic world and Mayan culture. The city's friendly atmosphere, archaeological sites and colonial architecture are only a few of the many reasons to visit.
____
Dreamy, Deluxe Vacation Hideaways, Close to Home
Grab a lover, a bunch of galpals, reunite with family --find an excuse to get-away to a quiet, deluxe hideaway in the USA. You'll save transport costs if you can drive. And if you're traveling on your own, you'll find blissful solitude.
St. Michael's, Maryland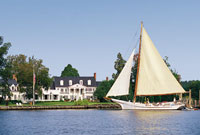 St. Michael's is a Victorian resort town on Maryland's Eastern Shore, tucked away in "The Land of Pleasant Living" on a stretch of the longest shoreline in the continental United States. Here you'll find The Inn at Perry Cabin, a luxe manor house with 78 individually furnished guest rooms. Work up a real appetite when you ride a bike, play golf, take a fishing charter, or ride a horse-drawn carriage; after, visit the inn's Sherwood's Landing for an expertly prepared dinner.

Charlottesville, Virginia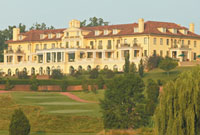 Time moves more slowly at Keswick Hall, and life is a bit more refined in the midst of the rolling green hills of central Virginia. This Italianate-style villa on a sprawling 600-acre estate offers just 48 spacious guest rooms and suites, each with a distinct personality and throwback touches like oversized claw-foot tubs. Enjoy a civilized game of snooker, a challenging round on the Arnold Palmer signature course, and slight indulgences at Keswick Club Spa & Fitness.

Pawleys Island, South Carolina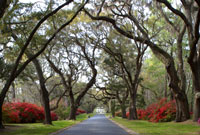 The Grand Strand is noted for its beautiful beaches, superb shopping and dining, the world's greatest collection of public golf courses, and Litchfield Plantation. Here, find four suites in the original Plantation House and an additional 34 rooms and suites scattered over the plantation's rolling 600 acres. Enjoy epicurean delights at The Carriage House Club, tennis, swimming, horse-drawn carriage rides, a private beach clubhouse, and maybe even a ghost.

Hollywood, Florida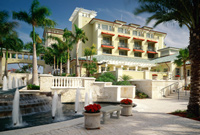 It's all about three things: golf, tennis, and absolute comfort. The Diplomat Country Club's 60 plushly furnished rooms and suites, endowed with perks such as spacious bathrooms with dual-head showers, are tucked into a pale yellow mansion overlooking a highly manicured golf course. The mansion itself is literally hidden away in its quiet, clubby atmosphere. Whether you pursue golf or tennis or both, enjoy a dose of bone-melting relaxation in the fabulous spa.

Little Torch Key, Florida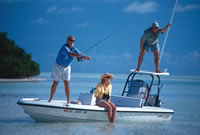 Talk about a hidden treasure! Little Palm Island is just 28 miles east of Key West, making it oh-so accessible by seaplane or by private launch (with dolphins leading the way). At this exquisite lodge, you won't find telephones or television but you will find 30 thatched-roof bungalows, set on stilts and tucked here and there. Indulge in exotic spa experiences, walk in the Zen Garden, go snorkeling, and end the day by dining on the beach under star-filled skies.

Cameron, Montana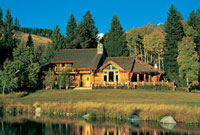 Surrounded by rugged national forest, Papoose Creek Lodge is a luxurious haven for hunters, fishermen, and those who love the wild outdoors. Five guest rooms in the main lodge and three spacious private cabins are comfortably decorated in cowboy chic. At this eco-lodge, you'll be invited to attend naturalist talks, you'll dine on gourmet cuisine prepared from local ingredients, and you'll enjoy eco-activities from canoeing to horseback riding in the hills.

Park City, Utah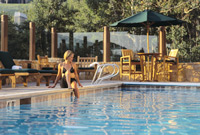 Stay at this luscious mountainside retreat and, sure, you can go skiing but you can also go mountain biking, hiking, horseback riding, hot-air ballooning, or enjoy an under-the-stars concert by the Utah Symphony Orchestra. Stein Eriksen Lodge's 170 guest rooms and suites have a distinctly European feel. After a day outside, have dinner at the Glitretind Restaurant, enjoy drinks-with-a-view, or sample handmade chocolates from the lodge's Chocolate Atelier.

Carmel Valley, California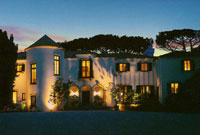 Quite possibly, the best of everything gracious and European has been gathered into one place on Stonepine Estate's sprawling 330-acre estate. The Mediterranean-style mansion is home to eight spacious suites and outlying guesthouses and cottages. Wherever you are on the vast grounds, you'll encounter little reminders of Europe, like the wisteria-scented Loggia, where you can relax with your morning coffee. But you are, after all, in California, and typical California-style diversions abound, like mountain biking and hiking along nearby ridge trails.

All Around the United States
From "Beach Beauty" in Malibu, CA to "War Dance" in Big Sky, MT to "Lakeside Promise" in Middleton, NH, "vacation home rentals are a personal and unique alternative to staying in a hotel.

_____

Jewels? Find Your Own, in Colombia, Montana, Amsterdam

by Lea Lane

If nobody buys you baubles, no need to sulk. Make it up to yourself. Create a solo shopping spree, traveling somewhere special, and buying something sparkling.

According to a recent Roper poll commissioned by Fodor's with the publication of my book, Solo Traveler: Tales and Tips for Great Trips, almost 40 percent of us have traveled alone for at least three days in the last two years. And most of us enjoyed it ---a lot.

Soloing doesn't necessarily mean going it alone. It's a positive term, meaning independence, and traveling the way you choose, whether on your own, or with a friend or a group. You call the shots and can break away when you wish. You'll meet more people traveling solo than any other way (and maybe even find someone to buy you something!).

Solo travelers often need a prompt to get out there. So how about a theme of jewels and indulgence? Go where you can buy a bauble at a good price, which will cover the cost of your trip.

Here are three suggestions for gem sprees, (but you could think of others: maybe topaz in Brazil, opals in Australia, amber in the Dominican Republic, pearls in Japan….)

Emeralds in Cartagena

I had read languid descriptions about Cartagena de Indias in the novels of Nobel-Prize winner Gabriel Garcia Marquez. I knew it was one of the best- preserved Spanish-colonial towns anywhere. (And spilling over with emeralds!) So I hopped a short flight to the southern Caribbean coast of Colombia.

Cartagena was declared a World Heritage Sight by UNESCO in 1984. Founded in 1533, it was the start and end point of galleons between the Iberian Peninsula and the New World.

The old city still looks almost 500 years old. Lush plazas, spired cathedrals, wooden balconies spilling with bougainvillea– all seem especially enchanting at night, when lights dramatize the centuries. Horse-drawn carriages clippety-clop past block after block of ornate pastel buildings and through narrow lanes.

To protect the city from pirates and buccaneers, the Spaniards built their most important complex of fortresses in the colonies, including 11 kilometers of walls and seven forts. You can walk and climb and descend ancient golden stonework, from towering parapets to narrow dungeons.

Cartagena was the first province to achieve independence from the Spanish Crown, in 1811, and outside the old city, contemporary shops and markets thrive. Colorful buses called "chivas" dart around, blaring tropical music.

For nature lovers, 50 nearby islands can be reached by boat for a day's excursion. You can enjoy tropical preserves, an aquarium and a botanical garden.

I stayed in the Hilton, a seasoned resort about a 10-minute drive from the old city, on a lagoon in the high-end Boca Grande district. The beach is minimal, but balconies overlook a shimmering, silvery Caribbean under moonlight.

As for emeralds, several Cartagena jewelry factories demonstrate turning green rock into sparking gems, with workers fashioning and faceting in front of you. I watched, and learned what to choose when I'm ready for this queen of jewels. Restraint is sometimes best.

Info: gosouthamerica.about.com

Sapphires in Montana

To dig for sapphires I thought I'd be donning a miner's hat with a light, and chipping into the depths of the western Montana earth with a heavy pick. Duh.

Instead, at a table at The Sapphire Gallery in small-town Philipsburg, owned by charming entrepreneur ShirIey Beck, I sifted through gravel for an hour in a climate-controlled, comfortable mining room, hunting for my hidden jewel,

You can't lose if you have patience and a few bucks. Bags of stones are $25 and if you don't find sapphires, you keep getting a bag until you do.

Later, an appraiser checked out my potential stones, the biggest the size of a raisin. One was considered worthy of polishing, and came out pale blue and the size of an appleseed. But I had found it!

I celebrated my tiny sifted gem next door at Shirley's candy factory, "The Sweet Palace," humbly dubbed "the grandest candy emporium in the great American West." Choosing from almost a thousand types of fresh candy is sweet consolation if you don't find a sapphire.

This wide-open, mountain-fringed Big Sky Country is dotted with 29 ghost towns within 30 miles of pretty Philipsburg (12 of which have buildings that you can explore). These sparsely-inhabited towns return you to late 1800s, when people converged to chase illusive gold dust. (Not that different from chasing sapphires.)

I stayed an hour's drive away, at Papoose Creek Lodge, nestled among spruce, fir and aspen woods in the spectacular setting of the upper Madison River Valley in Southwest Montana. And oh yes, at dinner I proudly wore my new gem.

Info: mt.gov.com

Diamonds in Amsterdam


Amsterdam is known as "The City of Diamonds." But this year the country is celebrating another jewel: the Dutch artist Rembrandt van Rijn, whose 400th birthday will be celebrated throughout the year.

You can take a walking tour of Rembrandt's Amsterdam, including the house where the great painter lived and worked in his most prosperous years, during Holland's Golden Age. And all of his paintings at the Rijksmuseum will be displayed, including the famed "Nightwatch."

This great 17th century artist is being feted at events throughout Holland. I took a walking tour in tidy Leiden, where Rembrandt was born. With a great rail system, you're no more than an hour away from the farthest Dutch town.

As for diamonds, from the time of Rembrandt, merchants have brought these hardest of all gems here from mines in South Africa, to polish and set in precious jewelry.

Throughout Amsterdam, diamond-cutting factories and jewelers open their doors. Guides explain the production from rough cut to multi-faceted brilliant, offering free guided tours and often a complimentary drink.

And at the end of the tour and throughout the city, showrooms sparkle with diamonds from chips to rocks, in creative settings from vintage to modern.

I'll wait on the diamond. You never know...

_____

Five Moroccan Delights for a Solo Traveler

by Sasha Lehman

We've got Morocco on our minds as a quick getaway. Sumptuous luxury properties, bustling souks, excellent food, lovely countryside, and a government intent on attracting tourists...it's no surprise that we love Morocco right now. Oh, and did we mention that there's a 6.5-hour direct flight from New York to Casablanca?! .

1. Spend several nights at one of Morocco's deluxe properties.
It seems like there are new luxury hotels and ryads opening every day, but we have a few favorites. Villa des Orangers has a prime location in Marrakech's medina and, unlike many of the smaller medina properties, it also has a spa and rooftop pool -- so you can swim with a city view. Dar Ahlam is a kasbah-style hotel nestled in Skoura, at the base of the Atlas Mountains. After a day exploring nearby Berber villages, the spa and hammam is an excellent place to wind down and refresh yourself. Finally, La Sultana Oualidia hasn't yet opened, but located between Essaouira and Casablanca, it has a prime spot on a gorgeous but sparsely-populated beach and is rumored to be building a beautiful spa.

2. Cook Moroccan specialties like a dada. Though it's now a luxury hotel, La Maison Arabe in Marrakech began as an exclusive restaurant, and its dedication to the art of cooking has never wavered. Learn the techniques for preparing traditional Moroccan dishes from a dada (traditional Moroccan cook) and then prepare your own meal. Conclude, of course, by consuming the fruits of your labor. Delicious!

3. Visit the seaside town of Essaouira.

An ocean town with a laid-back atmosphere, Essaouira has a slower pace, delicious seafood, and some lovely hotels, making it a perfect place to spend two or three nights away from the big cities. At night, we recommend stopping by the promenade, where locals go to enjoy the evening air and eat fresh fish from the food stalls. Another great thing about Essaouira? The two-hour drive from Marrakech passes through groves of Argan trees, unique to Morocco and famous for the goats that climb their branches. You can visit a women's-run Argan oil cooperative to see how the oil is produced from the nut of the tree and used for coveted culinary and cosmetic products.

4. Shop for leather goods in Fes. Treasures await the dedicated shopper in Fes - and half the adventure is in the expedition. As you stroll through the narrow streets of the souk, eager vendors will entice you to their stalls with promises of mint tea. Keep an eye out for the leather pouf pillows and ubiquitous babouches slippers, which make excellent gifts for friends and family. We recommend making a cultural excursion out of it by also visiting the tanneries where leather is treated. Tanning leather is a craft passed down through families for generations, and observing the process offers an important reminder of the hard work that goes into producing these lovely souvenirs.

5. Hike in the Atlas Mountains.
In the Atlas Mountains, you can arrange everything from a gentle afternoon stroll to an energetic journey of several nights. Whatever length, we promise you it will be an unforgettable experience. The trails wind through Berber villages, gardens, and groves of apricot trees - a simply breathtaking way to experience the Atlas Mountains. Kasbah du Toubkal also has a first-rate hammam and spa to help soak away any muscle fatigue from the trip when you return!

More info: www.absolutetravel.com

_____

Ten Pools to Take the Plunge
Designer swimming pools go long, deep and exotic at luxury hotels and resort

All set to take the plunge? No, single lady, not that plunge. Rather, an invigorating splash in a designer swimming pool on your next getaway. Far from the plain blue rectangles of old, luxury hotels and resorts are dressing up their swimming pools with artful shapes, glorious foliage, sandy bottoms and stylish cabanas for drinks, dinner and private parties in the shade. So don't forget your bathing suit, or your sunscreen – you're going to need 'em.


1) The Adirondacks Naturally: The Whiteface Lodge in Lake Placid, New York sets guests swimming year-round with its gorgeous indoor/outdoor pool. The creatively shaped pool incorporates local biodiversity with artfully placed native rocks, trees and plantings. Guests can swim under a wall from the indoor Pavilion to the outdoor pool, which is heated year round for swimming among the snowflakes. The Lodge also has a burbling hot tub, which is quite popular in winter for shaking off the Adirondack chill. Rates starting at $295/night. www.thewhitefacelodge.com

2) Floor on the Shore: Fortunate guests at VillaHotel Contenta, one of four super-luxurious Miami-based addresses from Villazzo, plunge into elegance in a sizable heated swimming pool with a floor that's tiled like an Italian mosaic. Surrounding by tropical foliage and views of the Gulf of Mexico, the pool is outfitted with a splashing waterfall and private grotto. VillaHotel Contenta also has two Jacuzzis (one upon the rooftop) and a regulation-size beach volleyball court. Rates from $12,600/day; $70,000/week; $255,000/month. www.villazzo.com

3) 'Scuse Me While I Swim the Sky: Located on the 42nd floor with views of the Hong Kong skyline, Langham Place Hotel's swimming pool dazzles with underwater music and fiber optic lights. Guests can lounge poolside in cabanas and indulge themselves with a drink or a massage. Or, set your mind on melt while relaxing in the hotel's luscious rooftop Jacuzzi, heated just the way you like it night and day. Rates starting at $330/night. www.langhamplacehotel.com

4) Now That's a Cool Pool: Guests of Le Méridien Tahiti can cool their heels, legs, and everything else in the seaside resort's unique sandy-bottom swimming pool. The largest in the South Pacific, the pool sits alongside Le Méridien Tahiti's beautiful blue lagoon where it is perfectly integrated into the luxuriant vegetation of the island. Rates starting at $380/night. www.starwoodhotels.com/lemeridien

5) Slide On: There's more than one way into the water at the multi-level pool complex at Hyatt Regency Aruba Resort & Casino. Should cannon balls not work, try the three-story water slide. Or, take a gander at the resort's recently refurbished lagoon, where 180,000 gallons of fresh water are home to tropical fish and wildlife, including beautiful black swans, koi and catfish. Rates starting at $285/night. www.aruba.hyatt.com

6) Don't Fear the Freezer: A year-round, outdoor swimming pool in the deep freeze of Vermont? Yup – and a hot tub, too, at Topnotch Resort and Spa in Stowe. The resort recently added two new pools; one of them heated, just outside its new restaurant, Norma's. Tiles on the pool deck are kept warm through radiant heat while a nearby fire pit assures everyone will be toasty. Guests can also enjoy a hot tub surrounded by fresh snow and amazing vistas of Mount Mansfield. Rates starting at $335/night. www.topnotchresort.com

7) Swimmin' Pretty in the City: Guests at Kor Hotel Group's Chamberlain West Hollywood can soak up the sun on the hotel's rooftop pool deck along with 360-degree views of L.A.'s edgy cityscape. The heated pool is ideally suited to soothing evening dips, and exclusive cabanas clad in striking white, coal and black offer privacy and exclusivity with sleek lounging beds and chaises with elegant cumaru wood bases. At 12 feet-by-12 feet, the largest cabana offers a full banquette, cushy pillows and a glass coffee table. Rates starting at $119/night. www.chamberlainwesthollywood.com

8) "Take Your Time": Could there be any wait as interminable as for a spa treatment? Not at The Spa at Little Dix Bay, A Rosewood Resort on Virgin Gorda in the BVIs. Along with the world's finest beauty and recuperative treatments, the cliffside spa has an outdoor relaxation area offering guests a dip in a two-tiered infinity pool and neighboring Jacuzzi. With panoramic views of the sea, surrounding islands, and floating sailboats on the horizon, guests will discover an incomparably relaxing experience before they even set foot in the treatment room. Rates starting at $395/night. www.littledixbay.com

9) Desert Desserts: Viceroy Palm Spring's Resort & Estrella Spa's intimate layout of landscaped courtyards frames three outdoor heated swimming pools – two for adults and one for the whole family. Each invites guests to swim day or night amid lush surroundings of citrus trees and manicured gardens. Poolside manicures and pedicures are available for guests and the poolside bar offers frozen Margarita popsicles or aromatic face and body mists produced right at the spa. Rates starting at $89/night. www.viceroypalmsprings.com

10) A Tall Cocktail of Water: The Blue Mojito Pool Bar & Grill at Hyatt Key West has all the makings for a brilliant day in the sun. As part of the hotel's $9 million renovation, the pool area has been redesigned, now featuring sleek poolside "spa cabanas" to enjoy swimming and spa-ing along with a sexy pool deck and whirlpool. The Corian-top bar shines with "pearlescent" mosaic work providing a luminous backdrop for sipping the signature Blue Mojito Cocktail. Rates starting at $270//night. www.keywest.hyatt.com

_____

Easy, Value Vacations in Southeast Arizona & Monterey, CA

An Arizona Drive

Looking for an area that's safe and easy to drive around in, especially as a solo traveler? Cochise County is one of the most culturally, historically and geographically diverse areas in the American Southwest. Its communities—Benson, Bisbee, Douglas, Tombstone, Sierra Vista and Willcox—were strategically located less than a day's journey by stagecoach, and are now just a short drive from one another.

Attractions, Events & Shopping

Cochise County birding is featured prominently in the new 2006 Southeastern Arizona Birding Trail Guide. The area is renowned for birding, with more than 500 species found. To fully explore this beautiful landscape, birding enthusiasts now have a new tool with the 2006 Southeastern Arizona Birding Trail map/guide. It showcases 52 birding sites, and includes valuable information on each birding site. For more information, visit http://www.seazbirdingtrail.com/.

Amelia Earhart was here! In 1929, Earhart and other women participating in the Women's Air Derby aviators soared into Douglas's International Airport during a stopover. Now visitors can learn about this and other flight stories at the Douglas Aviation Museum. The museum houses aviation memorabilia including an original photo of Earhart, the pioneering aviator. Hours are 10 a.m. to 2 p.m. on Saturdays and Sundays beginning in September 2006. To visit on a weekday, call the Douglas Visitors Center to set up an appointment! Contact: 520-364-2478.

Three new antique stores recently opened in Sierra Vista. The Treasure Chest is at 1197 Fry Blvd., Contact: 520-417-9883; What's New? Nothing! is at 1630 S. Hwy 92, Contact: 520-452-9000 and the Antiques & Collectibles Mall, 112 N. Second St., Contact: 520-227-9422.

Every household with electricity can thank copper and the town of Bisbee, home of the prolific Queen Mine. That's the message behind "Digging In" an exhibit, debuting in September at the Bisbee Mining & Historical Museum, a Smithsonian affiliate. Depicting the area's mineral wealth, the exhibit is a look at copper's importance in America's rural electrification throughout the Twentieth Century. Contact: 520-432-7071 or www.bisbeemusuem.org

Adventure Coyote Tours provides guided tours for young and old, individuals and groups in a unique six-wheel drive Pinzgauer vehicle. Visitors can learn about Cochise County's history and culture in adventures through its scenic beauty. Owner Charlie Onehorse Hill gives half- and full-day tours starting at $65 for adults and $50 for children. Contact: Adventure Coyote Tours, 520-508-1623.

Accommodations

The Triangle T Guest Ranch is in the Dragoon Mountain's Texas Canyon. Kennedys, Vanderbilts and DuPonts have stayed at the ranch. Triangle T also has RV spaces and a hall for hosting special events. Contact: 520-586-7533 or www.triangletguestranch.com.

The Vega Bray Observatory is at the Astronomer's Inn, with telescope, refractors and giant binoculars. Contact: 520-586-7906 or www.AstronomersInn.com

The Hotel San Ramon opened recently in Bisbee, just behind the Bisbee Mining & Historical Museum. Rates for Hotel San Ramon are $69-$150. Contact: 520-432-1901 or www.hotelsanramon.com.

Tombstone's Adobe Lodge, at the corner of Fifth and Fremont, is under new ownership and is now called The Bella Union's Adobe Lodge. Contact: 520-457-2241 or 1-888-457-2241.

Sierra Vista has expanded its lodging inventory with the addition of the new Holiday Inn Express, located at 1902 S. Highway 92, and the Candlewood Suites, located at 1904 S. Highway 92. Together, the properties will add 149 rooms. Visitors can reserve rooms at the Candlewood Suites beginning in late November and at the Holiday Inn Express in late December. Contact: 1 888 HOLIDAY (888-465-4329) or 1 877 CANDLEWOOD (877-226-3539).

The Letson Loft Hotel is an eight-room boutique hotel at 26 Main Street in Bisbee. The hotel is a second story loft hotel in a renovated landmark building that boasts original hardwood floors, skylights and exposed adobe brick walls. Extra touches include luxurious bedding with pillow-top mattresses, as well as flat screen TVs with cable and HBO and free wireless internet access. For more information: 877-432-3210, 520-432-3210 or www.letsonlofthotel.com.

Restaurants

Almost 40 percent of the 75 restaurants in Sierra Vista are ethnic, with Vietnamese, Korean, Japanese, Chinese, Thai, Mexican, German and Italian. Just recently, the Irish Pub opened at 4301 S. Hwy 92, Contact: 520-378-6835. In addition, Nana Luna's, a restaurant and wine bar, features continental cuisine and is located at 7156 S. Hwy. 92. Contact: 520-803-7100. Adobe Southwestern Cuisine, located at 5043 S. Hwy 92, is Sierra Vista's newest restaurant. Contact: 520-378-2762.

Santiago's Restaurant, next to the Hotel San Ramon at 11 Howell Avenue in Bisbee, opened for business serving authentic Mexican Food in April. Contact: 520-432-1910 or www.santiagosbisbee.com.

For more info, contact the Cochise County Tourism Council at www.explorecochise.com.

***

25 Great Free Things to do in Monterey County, California

This northern coastal area is among the most scenic in the country, renowned for its gorgeous Pacific ocean vistas along Highway One. But stop around Monterey, and you'll find lots to do besides view the scenery. And at little or no extra cost!:

1. Get a taste of what life was like in the early days of old Monterey on the Monterey Path of History tour, which visits more than 40 historic buildings and sites (Free self-guided and docent-led tours available.)

2. Take a tour and sample hand-made sweets at Monterey Bay Chocolate Factory in Seaside.

3. Walk (cars are charged a fee, pedestrians are not) into Pt. Lobos State Reserve and hike to the cove said to have inspired Robert Louis Stevenson's Treasure Island. Visit the Whaling Museum, count the number of wildflowers you see, or picnic where you can watch the waves.

4. Follow in the footsteps of John Steinbeck's characters in "Cannery Row" by exploring the tide pools of the Monterey Bay coastline, especially near Asilomar State Beach.

5. Bike, rollerblade or jog along the scenic Monterey Bay Coastal Trail, an 18-mile stretch of paved pathway that runs alongside Monterey Bay.

6. Climb a real, full-size 1956 steam engine at Dennis the Menace Playground, designed by Dennis the Menace creator's, Hank Ketcham.

7. Learn about Monterey's rich history at Pacific House Museum, from Native American times, through its days as the capital of Spanish and Mexican California, up to the raising of the American flag.

8. Visit the historic Custom House to see where California commerce began, and check out the California 'bank notes' – cattle hides traded by the Californio rancheros.

9. Uncork your inner oenophile by wine-tasting in Carmel Valley or along the Salinas Valley River Road Wine Trail.

10. Visit the bookstore and redwood-shaded lawns at the Henry Miller Memorial Library in Big Sur, honoring the writer who spent 18 years in the area.

11. Grab a kite and head to the sand dunes in Seaside or at Marina State Beach for a day of play. (They're a great place to catch the sunset, too.)

12. Conduct a clam-chowder tasting on Monterey's Fisherman's Wharf –the samples are provided free by several of the wharf's restaurants!

13. Inspect the sea lions on the rocks at the end of the Coast Guard Pier.

14. Do some birding at Elkhorn Slough Estuarine Reserve, Salinas River State Beach or Lake San Antonio. Visit San Antonio in winter and you may spot bald eagles!

15. Roam more than 80 miles of scenic mountain bike trails and roads on the former Fort Ord military base.

16. See thousands of migrating Monarch butterflies at the Butterfly Sanctuary in Pacific Grove between October and March.

17. Watch gray whales on their annual winter (December-March) migration between Alaska and Mexico from one of Monterey County's promontories: Pt. Pinos, Pt. Lobos or the Big Sur coastline.

18. Enjoy spectacular Carmel Valley views from trails at Garland Ranch Regional Park.

19. Take an "Asilomar Ramble" tour with California State Parks rangers to explore 80 acres that includes historic architecture, forested hiking trails and sand dunes topped with wooden walking trails. Key sites include 16 structures designed by Julia Morgan (architect of Hearst Castle) between 1913 and 1928.

20. Walk into San Lorenzo Park in King City to discover the farming past at the Monterey County Agricultural and Rural Life Museum.

21. View jolly giant farmers standing 20 ft. high in the fields off Highway 68 at the entrance to The Farm. Crafted by local artist John Cerney, these larger-thanlife statues of packers, trimmers and irrigators are a tribute to the hard-working men and women of Salinas Valley. Follow up with some fresh veggies from the farm stand.

22. Drop into the Monterey Museum of Art during Third Thursday every month: admission is free and there's live entertainment and wine-tasting to accompany the art.

23. Walk the boardwalk from Asilomar State Beach, skirting the golf course of the Inn at Spanish Bay, and picnic in the company of seals, sea otters, and other marine wildlife in Pebble Beach.

24. Build sandcastles on Carmel's famous white, sandy, beach.

25. Visit the Pacific Grove Museum of Natural History and pose by Sandy the Whale, a lifesize bronze sculpture.

Make a coastal escape with new nonstop air service linking Monterey to Denver, Las Vegas and Salt Lake City. Daily flights also serve Los Angeles, San Francisco and Phoenix. Learn more at www.montereyairport.com.
For a free Monterey County travel guide, or for information on attractions, events and hotels in the area, visit www.monterey.travel

_____

Mexico's Beaches Offer More Than a Suntan

Mexico's 9,000 miles of coastline offers beach lovers more than just rest and relaxation. Solo travelers eager to take in some rays can enjoy the diverse activities available in some of Mexico's top beach destinations. Only in Mexico will you find four different sea coasts providing a huge variety of sand types, waves, ocean color and natural environments. Add Mexico's well-earned reputation for hospitality and value, and it's easy to see why Mexico and its beaches are a favorite vacation spot among North American tourists and beyond.

A Beach for Everyone
With 6,000 miles of its 9,000-mile coast as beaches, Mexico offers everything from bustling mega-resorts to tranquil ecological hideaways. Cancún/Cozumel, Acapulco, Los Cabos, Mazatlán and Puerto Vallarta are the most popular beach destinations, perfect for those who are into world-class people watching. For those neither into watching, nor wanting to be watched, there are lesser known, secluded stretches of Mexican paradise, often relatively close to more popular beaches.

Crave Crowds?

• Cancún/Cozumel
Think of Las Vegas, but with beautiful beaches, bronzed bodies and water sports instead of casinos. Cancún is consistently rated among the world's best beaches. A short trip from the mainland, Isla Mujeres (Island of Women) stretches along 5 miles of pristine beach. Nearby, Mexico's most popular archaeological site, Tulum, combines prehispanic ruins with sprawling beaches and sparkling waters.

• Acapulco
This fabled haunt of the Hollywood elite, equally famed for its daring young cliff divers, is reemerging as one of Mexico's premier beach destinations. If you haven't been there in a while, visit now. Acapulco's magic is more potent than ever.

• Los Cabos
With its other-worldly beauty and enviable location at the tip of Baja California, the world's longest peninsula, the beaches of Los Cabos are equally beautiful and dramatic. Despite its many world-class resorts, you can still enjoy a private stretch of beach.

• Mazatlán
Spreading 15 miles along a thumb of land that extends into the Pacific just below the Tropic of Cancer, Mazatlan marks the beginning of the Mexican tropics. Beyond the "Golden Zone" hotel strip, its coast is sprinkled with beckoning islands and miles of golden beaches and blue lagoons, aptly deserving its title as the "Pearl of the Pacific."

• Puerto Vallarta
Puerto Vallarta lies on Bahía Banderas, the second-largest natural bay in North America, with more than 100 miles of coastline. At the same latitude as Hawaii, it's a haven for anyone who enjoys beach activities from whale-watching, parasailing or bungee jumping over the Pacific to windsurfing, snorkeling, scuba diving, jet skiing and deep-sea fishing.

Desperately Seeking Seclusion?

• Maroma Beach, Playa del Carmen
On Mexico's Turquoise Coast, Maroma feels like it's like a million miles away, but is actually just 35 miles south of Cancun on what has become known as the Mayan Riviera. Also rated one of the Travel Channel's "Best Beaches," its sand is the color of powdered sugar and its clear waters are the temperature of a warm bath. On the slight chance you'll want to do anything but just melt into the sand, you can visit nearby Mayan ruins, explore the Sian Ka'an Biosphere reserve or visit the Contoy Island bird sanctuary. The locale features a 36-unit, 500-acre luxury resort that was built without electrical or mechanical tools, and only one-tenth of the property will ever be developed in order to maintain the area's ecological balance.

• Isla del Espíritu Santo
The Island of Espiritu Santo is located off the coast of Baja California, near the city of La Paz. With its red rock formations, white sand beaches and turquoise waters, Espiritu Santo is considered by many to be one of the most beautiful islands in the Sea of Cortez. Adventurous travelers can circle this jewel during weeklong kayaking voyages with the opportunity to snorkel, swim with sea lion pups, hike volcanic creeks, and set up camp on a different beach each night, allowing them to explore the beauty of this island paradise.

• Nayarit
Offering a broad range of vacation settings, the State of Nayarit is a major agricultural center as well as one of Mexico's most beautiful beach destinations. The coastal city of San Blas is the site of an annual international fishing tournament as well as the ruins of the 18th century temple of San Basilio. A popular spot in the area is La Tovara, a freshwater spring and swimming hole.

• Punta Mita
If visitors to Mexico have their heart set on a relaxed beach vacation, the Pacific ocean-side town of Punta Mita is the ideal spot to unwind. A luxury resort awaits those in need of pampering, and from December to March, the Yubartas whales migrate to the region, giving lucky travelers memories that will last a lifetime.

• Tamaulipas
Nature travelers will be impressed by Tamaulipas many lagoons, estuaries and beaches. Saltwater marshes and mangroves make the shores of Tamaulipas especially interesting to naturalists and ecotourists.

• Huatulco
If in search of the perfect place to unwind, visitors should look no further than the Bays of Huatulco, the newest ecotourism beach resort on Mexico's Pacific coast. The nine bays are located at the base of the Sierra Madre Mountains in the state of Oaxaca. For a closer look at the bays, travelers should not miss the Tequila Catamaran tour. Stop at Maguey Bay for a dip in the cool water and dry off on the white sand beach while sipping fresh coconut milk served right in the shell.

• Up-and-coming
Located just south of Cancun, Mexico's Riviera Maya in Quintana Roo State is quickly gaining the spotlight in the world of sun-seekers. Playa del Carmen, the Riviera Maya's unofficial capital, lies halfway between Cancún and Tulúm on a coastal strip that combines jungle, mangrove swamps and white, sandy beaches. In addition to beaches, Tulum is also one of the main archaeological zones in Quintana Roo.

_____

Traveling alone without the hassle

by Ed Hewitt, IndependentTraveler.com

Thanks to new security restrictions, heavy travel volume and airfares that have risen 15 percent over last year's, the winter travel season can be stressful on both your psyche and your wallet. But if you're braving the skies, a little preparation can go a long way.

Travel Off-Peak Whenever Possible

The heaviest traffic will probably be on the Friday before and Tuesday after each holiday, with folks looking to make the most of the long weekend. Try to travel on a Wednesday or Thursday.

Book Early
Book sooner rather than later, particularly if you require very specific travel dates or times. With the current state of the airline industry, it is never too early to book your travel flights.

Shop Around
Whether you're using booking sites, bid or auction sites, aggregator sites or our very own Bargain Box, comparison shopping has never been easier than it is right now. During peak travel season, casting the net as wide as possible will help you understand all of your options.

For many travelers, price isn't the only or even the most important factor. Thoughtful, deliberate use of the "search adjacent days or airports" features found on many Web sites may also surrender greatly improved fares and travel times.

If you're looking for a hotel or car as well as a flight, don't miss Finding Hidden Hotel Hideaways and Cruising for Car Rental Deals.


Check Alternate Airports
This is pretty standard, but at this time of year it can really make a difference. At no time can the alternate airport gambit pay off better than during the winter crush. You can score on almost every front -- parking, rental cars, traffic to and from, nearby hotels -- and save both time and money.

For example, a recent flight to Hanscom airport outside Boston dropped me right into Thoreau and Minuteman country, offering a very different experience than flying into Logan. Upon my return, the car rental agent informed me that my flight may be running late, and let me hold onto the car keys until we were sure that the flight would take off, with no additional fee. Only at a small airport can you get that kind of treatment.

Plot Connections Carefully
When booking flights, check your search results carefully for sufficient time during layovers, and build in some time for flight delays and weather woes. Particularly during the winter months, peak travel times often bring peak travel delays, and your connection is more likely to be jeopardized. Avoiding really tight connections may save you a sprint through the terminal at least, and a really nasty stranding at worst. Also, it is best if you can muscle your flight path into position so that connections are in places less likely to experience delays -- specifically, airports in warmer climates.

Leave Early
During peak travel times, much of the trouble you'll face lies on this side of the security check-in, from traffic jams and full parking lots to absent shuttles and long lines. Rather than striving to "arrive at the airport early," you may want to try to "leave for the airport early" to anticipate all the peripheral delays you may encounter.

Pack Wisely
In the past, you may have been able to fit everything into your carry-on without having to check any baggage -- a strategy we still recommend. However, the latest TSA rules about liquids and gels may make this a trickier proposition. For the record, you may bring liquids and gels in three-ounce or smaller containers, packed within a single, quart-size, zip-top, clear plastic bag. You're also allowed to bring any liquids (such as coffee or water) or gels purchased after you go through a security checkpoint onto your plane with you. If you want to bring more than the three-ounce amounts, you'll have to pack the items in your checked luggage.

For more information, read Know Before You Go: Airport Security Q&A.

Security requirements can change at any time, so we recommend checking the TSA's Web site a day or two before your flight to get the latest updates.

Use the Web for More Than Just Booking
The latest self-service developments in online travel can be tremendous time-savers during peak travel times. Whenever possible, print your boarding passes at home, or use check-in kiosks. These services are no longer restricted to the airport, and can be found in hotels and other places in increasing numbers.

Think about doing your shopping online and having your gifts shipped to your destination. This will cut down on luggage and the risk of them getting lost.

Travel Early or Late in the Day
As a rule, airports are least congested at times when normal human beings would rather be at home or even asleep. Delays are far less likely for morning flights, and airports usually unclog as the afternoon and evening peak passes.

A couple caveats: Staffing can be spotty for really early flights, so although your flight is highly likely to be ready to leave on time, check-in may take a bit, along with other personnel-dependent steps like riding shuttle buses.

Consider Package Deals
Peak travel periods can be the best time to buy package deals, even for folks who would never buy one, as the bundled pricing offered by packages can be very competitive, even (or especially) at times of high demand. I'm traveling on a package over Thanksgiving, and am almost stunned at the offer; you can barely afford to stay home at these prices.

Be prepared for more than the usual slowdowns at security. Even though frequent travelers may be used to the new liquid and gel rules, folks who haven't flown in the last few months may be caught off guard.

Gas up the night before you travel; no one leaves enough time for buying gas on the way to the airport.

Investigate your frequent flier options to get better (and better guaranteed) seats.

Bring diversions. Take along work, books, magazines, a CD player, some healthy snacks -- whatever you need to get through delays. This goes double when traveling with kids.

Keep your cool. Airline employees have considerable power over your well-being. Unfortunately many enjoy wielding it against you, and few respond well to anger.

Have phone numbers for everything: your hotel, your car rental agency, your airline, friends at your destination. Directory assistance is expensive, whether from your cell, from a phone booth or from home.

Check flight status repeatedly. Know your airline's 800 number as well as your flight numbers and exact times.

When traveling on an E-ticket, carry a printout of your itinerary from your airline or booking site.

Choose nonstop flights. The worst, most brutal delays occur in connecting airports, where you have no home, friends or family to retreat to.

If you know you'll need long-term airport parking while you're away, be sure to reserve yourself a spot ahead of time at an off-airport lot so you're guaranteed a space.

Don't over pack even checked luggage; overstuffed bags that must be opened for a security check are much harder to repack.

Do not wrap gifts, especially if you intend to carry them on the plane. Even in checked baggage, there is a strong chance they will be unwrapped for inspection by security personnel. Consider gift bags instead of wrapping paper this holiday season -- you can easily remove the items from their bags if required and you don't have to do a last-minute wrapping job at your destination.

Give your cell phone a full charge, and write down or program the phone number of your airline so you can call easily as your flight time approaches.


If you're leaving pets at home, and you haven't made kennel reservations, do so right away. If Fido is coming along, check out our article on

Traveling with Pets

.

_____
Traverse City, Michigan: Gorgeous Winter Walks
by Mike Norton
Every year, millions of visitors come to enjoy the fabled natural beauty of this picturesque resort community -- but almost all of them see it in the lush days of summer or when autumn has covered the steep water-girdled hills with brilliant red, gold and orange.
It's a rare traveler who has the opportunity to appreciate the region's glacier-carved charms when winter has transformed it into a place of austere, captivating beauty. Few sights can compare with the view from the Sleeping Bear Dunes on a January morning, where the new snow sparkles like diamonds above the deep blue of the lake, or the unexpected glimpse of an otter frolicking in a dark stream between snow-covered banks.
Fortunately, these experiences are accessible to anyone. Just get outside and take a winter walk.
Walking isn't nearly as popular a winter pastime in the U.S. as it is in many other countries. In gregarious Great Britain, for instance, walking clubs organize hundreds of winter walks every year. But there are signs that Americans are also beginning to warm to the idea.
"It's like that song, 'Walking in a Winter Wonderland,' because this place can be perfectly lovely even without a lot of snow," says businessman Pete Edwards. "More and more people are learning to enjoy winter walking."
Edwards should know. His company, SkiWalking.com, specializes in lightweight "Nordic walking" poles that provide walkers with extra balance, added security on hills and icy spots, and the benefits of an upper-body workout – and his sales, like his customers, have been going steadily uphill.
But unlike skiing and snowshoeing, winter walking doesn't require much in the way of special equipment; just good, warm clothing (hat, jacket, mittens and maybe some long underwear) and a pair of sensible boots.
Perhaps it was only natural that the Traverse City area should become a hotbed of winter walkers. After all, this is a place where cross-country skiers and dogsled racers put wheels on their equipment so they can practice on the nearby trails all summer long -- and many of those same trails can easily be used for casual winter walks.
Here's a small sampling:
City Sidewalks, Pretty Sidewalks
One relaxing "urban walk" takes winter visitors along Front Street, through Traverse City's historic downtown shopping district, and into one of its oldest residential neighborhoods: the splendid 19th-century homes along tree-lined Washington Street, a six-block stretch of elegant Victorian buildings. It's a particularly fine walk on a calm winter evening, when the holiday lights in the downtown trees and the turn-of-the-century streetlamps give the night a magical glow.
A Walk Along the Bay
The slender Old Mission Peninsula thrusts north into Grand Traverse Bay for 20 miles, and at its tip -- precisely halfway between the equator and the North Pole – one can feel as though one is standing at the last place on earth. But the township park at Old Mission Point has a cozy 19th-century lighthouse, a picnic area and a series of walking trails that wander through deep evergreen forest, along rock-strewn beaches and up to a highland plateau where hikers can look out over the bay to the distant shores beyond.
Traverse City's Central Park
Surrounding the creamy brick castles of the former Traverse City Psychiatric Hospital, known now as the Grand Traverse Commons development, is a network of wonderful public walking trails. Some circle the splendid old buildings of the former hospital; others wander through deep woods and across open meadows past browsing deer, or climb high into the western hills above the city, providing splendid views of the surrounding area.
An Enchanted Forest
About 20 miles east of Traverse City, on Valley Road in the hills of western Kalkaska County, the fast little Rapid River pauses on its way down a steep valley. Here in a forest of quiet cedars is a little-known park (known by locals as the Seven Bridges) where the river briefly divides into several branches that go wandering through the trees, crossed by a series of footbridges. It's an enchanted, intimate place for a walk, and it's at its very best when there's a light snow falling.
A Fierce Beauty
Michigan's Sleeping Bear Dunes are magnificent in every season, but they can be especially imposing in winter, when snow, ice and light create dramatic effects in the sky, the water and the towering dunes. There are several fine beach walks along the Sleeping Bear Coast, but the most accessible is from the municipal beach in Empire.To learn about other outdoor adventures, activities and attractions in the Traverse City area (including even more winter recreational opportunities) contact the Traverse City Convention & Visitors Bureau at 1-800-TRAVERSE or on line at www.VisitTraverseCity.com
_____
Snow may be sparse where you are, but single travelers will find plenty here
From snow-shoeing to tobogganing, Germany offers a variety of outdoor winter events that are fun to watch and to participate in. Downhill skiing and cross-country skiing are favorites but bobsledding and snow-shoeing are new favorites among nature lovers in Southern Germany. Garmisch-Partenkirchen, Oberstorf, Ruhpolding and Berchtesgarden are delightful winter sports centers that not only draw the finest athletes, but also cater to families and amateurs.

Garmisch-Partenkirchen is not all about the Zugspitze. The former Olympic ski village offers fabulous cross country trails groomed for all levels and has four new lifts, bringing alpine skiers to top of the Hausberg. Visitors to the most popular ski resort in Germany can also discover the area after sunset, joining a midnight hike by lantern light in the Partenklammgorge. The Happy Ski Card covers not only all ski lifts in Garmisch-Patenkirchen, Mittenwald and to the Zugspitze, but also the Zugspitze arena and Seefeld in Austria.
http://news.cometogermany.com/ff/ch.php?cmd=go283852451&vas=10368331And that's not all: High above Garmisch-Partenkirchen, with a spectacular view of four countries, lies Germany's first Igloo Village. Check into the icy hotel, relax with a glass of wine in your igloo and peek out at the tips of four Alpine countries.
http://news.cometogermany.com/ff/ch.php?cmd=go283852451&vas=10368332

Winter fans looking for a special kick can find it on the Race Bob Taxis or bobsleds on Mount Watzman in Ruhpolding in eastern Bavaria. Visitors can even be co-pilots in this Formula One of winter sports and race down the ice canal at 120 km per hour. The price for a ride in the race bob is 80 EUR.
http://news.cometogermany.com/ff/ch.php?cmd=go283852451&vas=10368333

From the Stone Age to beyond the Middle Ages, snow shoes were used to conquer long distances in deep snow. Now, in the Black Forest, snowshoeing is enjoying a revival as a sport and nature experience. Since snowshoeing is easy to learn - the basic rule is: if you can walk, you can snowshoe - it is a winter sport experience for the whole family. Equipment and instructions are available in most places where Nordic skies or hiking facilities are located. There are several special trails in the area as well as numerous offers for guided tours.
http://news.cometogermany.com/ff/ch.php?cmd=go283852451&vas=10368334

In the middle of Germany, not far from Weimar, cross country skiers are challenged to traverse the famous Rennsteig ridge trail in Thuringia - with a length of more than 160 km, about 99 miles, one of the world's longest contiguous cross country ski trail. From the middle reaches of the river Werra near Hörschel to the upper reaches of the river Saale near Blankenstein, the trail runs across the peaks of the Thuringian Forest and the Thuringian Slate Mountains as far as the northern Franconian Forest.
http://news.cometogermany.com/ff/ch.php?cmd=go283852451&vas=10368335 (German only)


From snow-shoeing to tobogganing, Germany offers a variety of outdoor winter events that are fun to watch and to participate in. Downhill skiing and cross-country skiing are favorites but bobsledding and snow-shoeing are new favorites among nature lovers in Southern Germany. Garmisch-Partenkirchen, Oberstorf, Ruhpolding and Berchtesgarden are delightful winter sports centers that not only draw the finest athletes, but also cater to families and amateurs.

Garmisch-Partenkirchen is not all about the Zugspitze. The former Olympic ski village offers fabulous cross country trails groomed for all levels and has four new lifts, bringing alpine skiers to top of the Hausberg. Visitors to the most popular ski resort in Germany can also discover the area after sunset, joining a midnight hike by lantern light in the Partenklammgorge. The Happy Ski Card covers not only all ski lifts in Garmisch-Patenkirchen, Mittenwald and to the Zugspitze, but also the Zugspitze arena and Seefeld in Austria.
http://news.cometogermany.com/ff/ch.php?cmd=go283852451&vas=10368331And that's not all: High above Garmisch-Partenkirchen, with a spectacular view of four countries, lies Germany's first Igloo Village. Check into the icy hotel, relax with a glass of wine in your igloo and peek out at the tips of four Alpine countries.
http://news.cometogermany.com/ff/ch.php?cmd=go283852451&vas=10368332

Winter fans looking for a special kick can find it on the Race Bob Taxis or bobsleds on Mount Watzman in Ruhpolding in eastern Bavaria. Visitors can even be co-pilots in this Formula One of winter sports and race down the ice canal at 120 km per hour. The price for a ride in the race bob is 80 EUR.
http://news.cometogermany.com/ff/ch.php?cmd=go283852451&vas=10368333

From the Stone Age to beyond the Middle Ages, snow shoes were used to conquer long distances in deep snow. Now, in the Black Forest, snowshoeing is enjoying a revival as a sport and nature experience. Since snowshoeing is easy to learn - the basic rule is: if you can walk, you can snowshoe - it is a winter sport experience for the whole family. Equipment and instructions are available in most places where Nordic skies or hiking facilities are located. There are several special trails in the area as well as numerous offers for guided tours.
http://news.cometogermany.com/ff/ch.php?cmd=go283852451&vas=10368334

In the middle of Germany, not far from Weimar, cross country skiers are challenged to traverse the famous Rennsteig ridge trail in Thuringia - with a length of more than 160 km, about 99 miles, one of the world's longest contiguous cross country ski trail. From the middle reaches of the river Werra near Hörschel to the upper reaches of the river Saale near Blankenstein, the trail runs across the peaks of the Thuringian Forest and the Thuringian Slate Mountains as far as the northern Franconian Forest.
http://news.cometogermany.com/ff/ch.php?cmd=go283852451&vas=10368335 (German only)
_____

2006
Survey on Travel Security Fears,Tips to Avoid Dryness in the Air, and Latest Carry-On/Liquids Info

Tighter Security Can Make Solo Travelers Less Inclined to Travel

Instead of making travelers feel safer, tighter security at airports make Americans less inclined to travel, because of the perception of the ongoing threat of terrorism and increased inconvenience, according to a new survey by Synovate.

Synovate recently surveyed 1,481 travelers around the world who have traveled by plane in the past year to get their thoughts on the existing air travel security restrictions and the threat of terrorism.

Regardless of tighter security measures in place at many airports around the world, almost half of travelers surveyed across all markets believe that a terrorist act will take place on an aircraft sometime in the near future. This feeling was strongest in the UK (67 percent) and in the US (56 percent).

"With the recent fifth anniversary of the September 11 attacks it's not surprising that travelers in the US are still nervous about air travel," said Sheri Lambert, Senior Vice President of Synovate's Travel & Leisure group. "No matter how tight airport security gets, the idea that planes could potentially be used for terrorist attacks is now firmly planted in everyone's minds." Lambert added, "The reality is that 9/11 has changed the way we travel for the rest of our lives."

Though travelers indicate strong concern about terrorism, the additional security measures, rather than ease their concerns, have had the opposite effect of making them less inclined to travel. Twenty-two percent of American travelers said that tighter security restrictions will deter them from traveling internationally. Surprisingly, only 15 percent of respondents in the UK, which typically has very stringent security requirements and was the center of a thwarted terror plot in August, indicated that tighter security would deter their international travel, showing that it's mostly business as usual for them.

Nineteen percent of American air travelers also said that additional security requirements would deter them from traveling by plane for leisure, and 9 percent indicated that they were less likely to travel by plane for business. Forty-one percent of Americans surveyed indicated that they have traveled by air (for business or pleasure) at least once in the past 12 months.

Despite ongoing concerns about terrorism and the inconvenience of the security restrictions at many airports, most of the world's travelers – except for Americans – still think flying is an attractive means of transportation. Half of the Americans surveyed indicated that flying is less appealing than it used to be but only one-third of respondents across the globe feel this way.

Interestingly, 31 percent of travelers surveyed in all markets indicated that the "no-liquids on board" requirement was "just too much to ask".

"Frustration with any new or changing security requirements is high among some consumers, but this is still a new way for people to travel," said Lambert. "Like all new regulations put into place, travelers will eventually get used to them. However, consistency from airport to airport is critical. If the security measures are consistent, then passengers' comfort with the new measures will increase as well."

~~~~~~~~~~~

As of September 25, 2006: Most liquids and gels that air travelers purchase in secure areas of airports will now be allowed on planes. That means that after passengers go through airport security checkpoints, they can purchase liquids at airport stores and take them onto their planes.

New procedures also were announced for products like lip gloss and hand lotion that passengers bring to the airport. Previously, those liquids have been confiscated at security checkpoints. Now, these products need to be put in clear, one quart plastic bags (not mesh) at the checkpoint. They will be screened and returned to the passenger if they pass screening.

If a passenger brings a container larger than 3 ounces, it still must be put in checked baggage.

~~~~~~~~~~~~~~~~~~~~~~~~

To minimize inflight dryness, Carefair.com, a new online beauty community, offers the following tips:

Avoid or cut down on caffeinated beverages like coffee, tea and soda, which are too dehydrating. Drink lots of water, or snack on fruits with a high water content, such as berries, oranges, and mango slices before and/or during you flight. Avoid dehydrating beverages like beer, cocktails or wine.

Moisturize before flying to keep your skin glowing.

Look for powder alternatives to your shampoo/conditioner as well as your perfume. There are dry, powder-based shampoos (Hair Fix or Bumble or Bumble Hair Powder) and perfume powders available (Victoria's Secret Heavenly Silkening Body Powder or Jessica Simpson's Powdered Sugar Deliciously Kissable Body Shimmer). Also consider bringing baby powder to stay feeling fresh.

Pack "cleansing towelettes" - pre-moistened clothes that contain a cleaning solution and facial blotting tissue to remove excess oil and leave a light powder matte finish

Label. If you have any prescription acne medicine or skin creams, make sure you bring them in a properly labeled package.

Consider using long-wearing cosmetics, such as long-wear eye shadows that won't cake or smudge, and lip-liners, concealers and eye-liners that are made to stay on for a longer time.

And... More Updated Info on "New Normal" Air Travel Carry-On Rules ...

According to The New York Times Travel Section (September 24, 2006), "cellphones and laptops are now allowed as hand baggage, but there are anomalies, and travelers should check with airlines, and regulatory authorities, before they leave home. The United States Transportation and Security Administration gives an exhaustive list of what you can and cannot carry onboard at www.tsa.gov/travelers/airtravel/prohibited/permitted-prohibited-items.shtm. For "multi-stop international travel" the "most conservative source" for cabin baggage rules is the British Airways site (www.ba.com).

Be warned that you may be allowed to travel out with items that you cannot take back with you. For example, passengers flying from New York to London and not transferring onto another flight can carry one bag, 56 centimeters by 45 centimeters by 25 centimeters (22 inches by 17.7 inches by 9.8 inches), and one briefcase, laptop computer bag or equivalent. But returning from London, travelers must comply with the regulations of the British Department for Transport that allow only one "laptop-sized" bag no larger than 45 centimeters by 35 centimeters by 16 centimeters (17.7 inches by 13.7 inches by 6.3 inches). And some airports around the world have their own changeable rules." Go know.

_____

Big, Bold, Beautiful Berlin
by Maria Lisella

Traveling on your own and looking for a great city to explore? Think Berlin, Germany. Since 1989, when the Berlin Wall fell, the city has reinvented itself as one of the trendiest capitals in Europe. Across the expansive Berlin landscape -- four times the size of Paris -- scores of renovations and construction projects include government buildings, hotels, and massive shopping and entertainment complexes.

The Cultural Scene

You'll never be bored in Berlin, solo or with others. The imposing Reichstag, completely restored and crowned with a glass cupola, is open to the public daily, affording a superb view of the surrounding cityscape and the plenary hall below. The impressive Brandenburg Gate was built in1791 for King Frederick William II of Prussia as a triumphal gateway, and marks the western end of Unter den Linden, the city's grandest boulevard. Charlottenburg Palace is the city's pinnacle of Baroque architecture. The exceptional Pergamon Museum, displays treasures from the ancient world, including the monumental Pergamon Altar, which dates from at least 160 B.C. and was discovered in Turkey in 1876.

Other top attractions are the Berlin Film Museum, two floors of exhibits
on the extensive history of German filmmaking, documenting screen legends such as Marlene Dietrich; and The Story of Berlin, an interactive exhibition that includes the city's original nuclear fallout shelter and covers the 800 years of Berlin's history.
Off-the-beaten track attention grabbers include the Eastside Gallery, a small section of the Berlin Wall that now serves as an outdoor art gallery; Checkpoint Charlie, an exhibition on the history of the Berlin Wall and the U.S. Army's guard post between former East and West Berlin; sightseeing flights from Tempelhof Airport on a DC-3 airlift supply plane from the time of the Berlin blockade, 1948-49; Babelsberg Filmpark, one of the world's oldest and largest film studios; and Berlin Underground, a fascinating tour of underground structures, including bunkers and tunnels, in Berlin's central districts.
W
ith Berlin's nightlife among the liveliest in Europe, the opulent luxury of Adagio is a must for the club crowd. At Galerie Bremer, patrons buy art in the front and drinks in the back.
Between the Chancellor's office and the House of World Cultures is the Tipi das Zelt [Tipi the Tent] in the Tiergarten. This canvas theater offers heady and sophisticated acts, including acrobatics, opera and cabaret. During warmer months, audiences tend to have a beer and dine outdoors. (Visit Berlin's web site for 50 percent off live entertainment.)
Dining
Under the expert eye of young, creative chefs this former so-called "meatball metropolis" has become one of Europe's best dining experiences. Among the city's top restaurants are Margaux, with its gold leaf decorated ceilings and marble floors; Vau; Portalis; First Floor in the Palace Hotel; Zum Hugenotten in the Hotel Inter-Continental; and Lorenz in the Adlon Hotel. Guests in these and other hotels might want to stay "home" for dinner.
A good place to sample some of Berlin's favorite traditional fare--pickled knuckle of pork with sauerkraut and pureed peas, fried herring, green pea soup with ham or fried liver with apple rings--is the restaurant Zur letzten Instanz, a meeting point for artists and celebrities.
Getting There and Around
Berlin's Brandenburg International Airport in Schoenefeld is scheduled to be completed in 2007. In the meantime, you can count on frequent air and train service from Frankfurt to Berlin, and excellent public transportation from the city's three airports to downtown. Options include underground, bus, express train and streetcar. Taxis are safe, super clean and very reliable.
Hotels
Among the best:
The Adlon Hotel Kempinski Berlin 800-426-3135; fax: 030-22-61-22-22; e-mail:
adlon@Kempinski.com; www.hotel-adlon.de. It offers 337 rooms, the Adlon Spa and other exclusive appointments on the historic Unter den Linden in Berlin-Mitte (the heart of the city) next to the Brandenburg Gate and the Reichstag.
The 54-room Ritz-Carlton Schlosshotel 030-895-84; fax: 030-895-84-801; www.ritzcarlton.com, is set in an historic, elegant mansion close to Ku'damm (the shopping boulevard of the western city center), with private garden, spa and fitness center and exclusive dining.
With its 342 guestrooms the Grand Hyatt Berlin 030-25-53-12-34; fax: 011-030-25-53-12-35; e-mail: lquarz@hyattintl.com; Web site www.berlin.hyatt.com is the definition of contemporary luxury in the new heart of Berlin. Located at Potsdamer Platz, opposite the Stella Musical Theatre, the Adagio Night Club and around the corner from the Kulturforum, with its many museums, the hotel offers an elegant interior design and high-tech amenities.
The 204-room Four Seasons 030-20-33-8; fax: 030-20-33-61-66; e-mail: ber.reservations@fourseasons.com];
510-room Hotel Inter-Continental Berlin (030-26-02-0; fax: 030-26-02-26-00; e-mail: berlin@interconti.com; and 282-room Palace Berlin 030-25--20; fax:030-25-02-11-61; e-mail: Hotel@palace.de.
Contacts: German National Tourist Office: gntony@aol.com; or www.visitgermany; or Berlin Tourism Marketing www.berlin-tourist-information.com
AND... Six Sparkling Berlin Activities
*** The Sunday morning flea market on Strasse des 17. Juni (S-Bahn Tiergarten) for anything from antique linens to silverware and china to old door hinges to East German Kitsch. Great place to spend the morning.
*** The side streets (off Oranienburger Strasse) in Berlin Mitte. On Auguststrasse and Linienstrasse you will find an abundance of galleries, jewelry designers and local fashions. On Oranienburger Strasse stop at any of the great restaurants. Make sure to visit the Hackesche Hoefe (courtyards) and the lesser-known Heckmann Hoefe (entrace next to the New Synagogue on Oranienburger Strasse), where you find American second-hand clothes from the 60s, 70s and 80s (in great condition and really hip). A bonbon manufacturer sells all flavors.
*** Chocolate and a chocolate drink at Fassbender und Rausch www.fassbender-rausch.de.
*** Wannsee area: In March, the Liebermann Villare opened (spectacular!). The Haus of the Wannsee Conference is nearby.
*** Small museums: Newton Gallery (Museum for Photography) for photography, Hamburger Bahnhof for contemporary art, Berlinische Galerie for art from Berlin, and Museum Island to see Nefertiti's bust and other amazing archeological treasures.
*** An opera at the Staatsoper or a concert at Berlin's famous Philharmonic Hall.
_____
Whale Watching in Baja California Sur
Each year in early autumn, one of nature's most delightful signs of seasonal change occurs -- the migration of hundreds of whales from the frigid waters of the arctic to the warm, calm waters surrounding the Baja Peninsula. And, from January – March, there is no better place to view such a spectacular event than Baja California Sur.
These magnificent creatures complete the 12,000-mile journey by late December and stay until late March, when they repeat their journey. The whales make their way south at an average speed of four miles per hour. They travel continuously during the day and on moonlit nights, while resting for a few hours on moonless, dark evenings.
Baja's Magdalena Bay is a natural preserve for gray whales arriving to fulfill their biological cycles. Ideal climate, shallow waters, salinity and abundant marine life make the bays and lagoons of Baja California Sur the perfect place for whales to birth and rear their young. The female whales, impregnated the year before, arrive first. The males and younger whales come soon thereafter. The primary breeding areas are Magdalena Bay, San Ignacio, Vizcaino Preserve, and Laguna Ojo de Liebre. It is in these tranquil, warm waters that entice the females to give birth and nurse their young calves in these coastal reserves as well as teach them to swim and prepare them for the long journey back to the frigid waters in the north.
The six-month, round trip sojourn is the longest trip made by any animal in the world. Migrating whales travel half the year and rest the other half. Scientific studies have shown that 90 percent of the migrating whales travel south to the waters of Baja California Sur, while the remaining 10 percent make their way to the waters off Korea.
Whales have a unique internal clock. There is never more than a five-day delay from the beginning of their journey to their arrival off the Baja Peninsula. The breeding grounds are primarily on the Pacific side, but some whales travel around the cape to the Sea of Cortes.
Of the 11 species of whales found worldwide, eight venture to the waters of the Baja lagoons, including Minke, Bryde, Fin, Sei, Humpback, Beluga, Gray and Blue. The most common are small Minke, but the crowds come to view the colossal Grays.
There are several ways to observe the magnificent cetaceans in their natural habitat. Many local tour companies also offer whale-watching trips that provide an up close and personal introduction to these gentle giants. Small fishing boats called "pangas" take the whale watchers out among the whales. The sweet-tempered leviathans often approach the boats and welcome a friendly rub from humans. Hotels and marinas throughout Baja California Sur can arrange whale watching excursions for their guests.
Eco-tourists, families, honeymooners, mature travelers, artists, photographers, and others delight in their discovery of Baja California Sur. Within convenient driving distance from Los Cabos and with non-stop flights or connecting service to La Paz and Loreto from numerous U.S. and Mexican cities, Baja California Sur is both accessible and exotic. For more information about Baja California Sur call (877) MY-BAJA SUR or visit www.mybajasur.com.
_____
Mexico Celebrates Life During Day of the Dead
Mexico's Day of the Dead extended holiday is a unique celebration of life that unites the country on Oct. 31 (Young Souls Day), Nov. 1 (All Saints Day) and Nov. 2 (All Souls Day). With each state paying homage to deceased loved ones in slightly different but equally colorful ways, solo travelers can witness incredible displays of tradition and culture wherever in Mexico they choose to visit.
The Day of the Dead observances were born in prehispanic Mexico, and stemmed from the indigenous beliefs shared by the Aztecs, Mayans, Purepecha, Nahua, Totonac and Otomi that the souls of the deceased return annually to visit living relatives and eat and drink with them. These ancient cultures all celebrated the return of their dearly departed with festivals and fanfare.
Day of the Dead Alive and Well Today
From dancing Calacas (skeletons) to chocolate coffins, today's Day of the Dead celebrations continue the festive tradition and are alive with activity because in Mexico, loved ones don't ever truly die.
Families gather to honor their ancestors through ofrendas (altars), typically decorated with cempasuchil (marigolds), candles, photographs of the departed and the deceased's favorite foods and beverages, as well as many other small trinkets, including small coffins, often with pop-up skeletons. These altars range in size and are placed both in homes and at the gravesites.
Calaveras (skulls) form an important part of today's Day of the Dead celebrations. Originally, skulls and skeletons were represented in the art of prehispanic Mexico, particularly the Aztec civilization which ruled much of Mexico at the time of the Spanish conquest.
The skulls became part of popular culture and moved into the mainstream in the 19th century when Mexican artist Jose Guadalupe Posada (1851-1913) placed them in everyday situations in his satirical political artwork that commented on the corruption and social inequities of his time. In Posada's more than 900 drawings, politicians and legendary figures inhabited a world of skeletons and skulls.
Sugar skulls are another important part of the altar, and are decorated with paper foil for eyes and colored icing for hair. Names can be added to the skull and Mexican children often exchange named skulls with their friends. Sweets and candy skulls are traditionally intended for the angelitos (little angels)—the young souls of departed children, who return to earth in the late afternoon of Oct. 31.
Another Day of the Dead must-have is pan de muertos (bread of the dead), made with anise, sugar, butter, eggs, flour, yeast and orange peel, and decorated with strips of dough simulating bones. It is tradition for families to come together and share bread in remembrance of their deceased loved ones. Another traditional dish during this holiday is the tasty calabaza en tacha (candied pumpkin), prepared with cinnamon and brown sugar.
Below an overview of some of the more lively and well-known Day of the Dead celebrations.
Merida, Yucatan
Residents of the Yucatan Peninsula call their festival Hanal Pixan, a feast for all souls, and capital city Merida is at the heart of this celebration. Everything starts at cemeteries as families come together to clean and decorate loved one's graves in preparation for their visit. The first souls to find their way home are the children, Pixanitos, who return Oct. 31, with the adults, or Pixanes, soon following on Nov. 1 and 2.
The celebrations include the deceased's favorite foods and candies, and these are placed on tables with long white cloths. Other common offerings to the departed are ceramics, images of saints, flowers, candles, cigarettes, candies and a variety of traditional foods and drinks. Groups of families unite to prepare pibipollo, a seasoned chicken tamale wrapped in plantain leaves and cooked underground in a pit barbeque. On Nov. 7, families return to the cemetery the withered flowers and plant new ones. For more information, visit www.yucatan.com.mx.
Huasteca Potosina, San Luis Potosi
Area stores stock early with candles, paper flowers, candles, fireworks, tobacco, bread, candy, chocolate and coffee because residents start building the cempasuchil arches that frame their alters by Oct. 30. These alters, which represent the way in and out of the underworld, are lit from above with candles and incense and feature flower petal carpets to help guide the spirits back to the side of the living.
The first offerings are made for the departed children who are given chocolates, yucca, sheets made with pumpkin seeds, pork and chicken cuatzam (tamales). Children also receive corn and bean seeds to promote fertility, salt for those who have not been baptized and water for those who come back tired.
All Saints' Day is celebrated by the lighting of incense and traditional dances that last the entire night. On Nov. 2, families go the cemetery to clean and decorate their loved ones' graves. It is believed that the spirits enter the land of the living at this time and leave on the last day of the month, when families return to the cemetery and redecorate the new homes of their loved ones. For more information, visit www.sanluispotosi.gob.mx.
Oaxaca, Oaxaca State
For one of Mexico's most colorful and magical displays of Day of the Dead, visit Oaxaca City in Oaxaca. Local markets burst with preparatory activities, and playful skeleton imagery adorns storefronts and home windows.
The festival formally begins on Oct. 31, where families pay honor to their ancestors or deceased loved ones by creating elaborate in-house altars. Over the years, the altars have evolved into objects of art, and homes are open to those interested in paying homage to their dead, making this celebration a true exhibition.
Throughout the three days, the city arranges events at the local San Miguel Cemetery, such as exhibitions, altar competitions, music and prayers for the dead. In Oaxaca City's zocalo (main square), competing groups of students mold giant three-dimensional sand paintings depicting tombs, skeletons, ghosts and other aspects of death.
Another mainstay during the festivities is the Oaxacan mole negro (black mole), a rich sauce consisting of more than twenty different spices and considered the "king of moles" in the region. Typically served in tamales, the savory paste is enjoyed by both the living and the dead. For more information, visit www.oaxaca.gob.mx.
Janitzio, Michoacan State
In the heart of southern Michoacan State is Lake Patzcuaro, home to the island of Janitzio, which is accessible only by boat. The island of nearly 1500 inhabitants is renowned for its impressive and colorful Day of the Dead celebrations.
Pre-preparations abound as many families even grow their own cempasuchils, believing that doing so is more appropriate for their offerings. The squares fill with stands that offer all types of colorful figures allusive to death, the most popular made of sugar.
At night, boats are decorated with candles and flowers, loaded with local villagers and visitors who are taken to the island's cemetery. There they spend the night, summoning back the dead in celebration as the sounds of bells ringing, people chanting and the smell of incense fill the air. The following evening, fishermen paddle their torch-lit canoes around the lake, where they do a performance of butterfly net throwing.
Once the sun sets, the dancing begins. The Danza de los Viejitos (Dance of the Old Men), native to Michoacan State and believed to date from prehispanic times, is performed as a ritual honoring the Sun. For more information, visit www.michoacan.gob.mx.
Mixquic, Mexico City
Only 25 miles southeast of Mexico City is the village of Mixquic, a magnet for visitors and locals during Day of the Dead. The area takes on a busy and festive air in the final days of October as merchants set up street stands to hawk their wares for the Day of the Dead. In the cemetery, all family burial plots are elaborately embellished with an array of earthly delights in the hope of luring departed spirits.
Each year, a street fair is held from Oct. 30 to Nov. 2 that fills the village streets fanning out from the main plaza. Similar to the Halloween tradition in the United States, on the night of Oct. 31, children go from house to house asking for goodies. Most homes have large, intricate altars for Day of the Dead. Children kneel at the altar and recite prayers before being offered food-gifts. Then, they move on to the next home repeating the same ritual of kneeling and prayers. To light their way, children carry carved green and white chilacayote (squash), which look incredibly similar to jack-o-lanterns.
As darkness falls upon Mixquic, the glow of thousands of votive candles illuminates the way for the dead. At midnight they are called home with the mournful tolling of bells. Then each soul is lovingly remembered with recitations of the Rosary. The food-laden street fair roars outside the church graveyard, villagers descend upon the cemetery with food, drink, candles and cempasuchil. For more information, visit www.tlahuac.df.gob.mx/turismo/.
Chichen-Itza, the World Wonder
Swiss-based New7Wonders Foundation is revising the original seven ancient wonders of the world, and Mexico's Chichen-Itza in Yucatan State is one of 21 finalists to become a new Seven World Wonder. Declared a UNESCO World Heritage Site in 1998, Chichen-Itza is considered to have been one of the greatest Mayan centers of the Yucatan peninsula, and today is one of the largest and most impressive archaeological sites in Mexico. To vote for Chichen-Itza as one of the new Seven World Wonders, visit www.new7wonders.com.
_____
A Great Fall Drive: "The Crooked Road," SW Virginia's Music Trail
by Lea Lane
Interested in fiddle and banjo music, crafts, galleries, small towns and Americana? Then I've found the perfect fall drive for you: The Crooked Road, about 250 miles along Virginia's southwest corner, from the eastern slopes of the Blue Ridge west to the coalfields region, through the valleys and peaks of the Appalachian mountains. And in fall, the colorful leaves are a stunning bonus.
The Crooked Road signs lead you all along this most scenic drive, and that's important for solo travelers. And each big town has comfortable lodgings, good local food and friendly folks.
Roanoke
I flew into Roanoke, a lovely city with a compact, walkable historic city center. Leave a few hours to roam around, then get in the car, and go.
Floyd
Floyd Country Store hosts musicians throughout the world who come to play or just sit on the folding chairs and enjoy weekend bluegrass jams. There's popcorn, lemonade and possum (?) in a can. New facilities will allow for even more music and artifacts. Nearby County Records is worth a visit just to read some of the thousands of music catalogs. At the Arts and Crafts Center, up the road, students learn local traditions including blacksmithing, quilting and painting. You can tour and buy.
Just outside Floyd, Harvest Moon Store offers well-priced, exceptional folk art as well as groceries, garden goods and delicious coffee and pastries. The region is filled with crafts and folk-art stores.
Know what a "luthier" is? On the way to Galax, at Blue Ridge Music Center Grayson/Carroll County, a museum just off the parkway, you can talk to talented luthiers who create fine guitars, banjos, mandolins and other instruments on site. If you're lucky they'll play for you. But if you want a custom instrument, get in line. Guitarist Eric Clapton had to wait 10 years for his!
Galax
The town has dozens of early 20th century buildings. Don't miss the Friday night radio show at the Rex Theatre. The venue is a former movie house, and the blue- grass music so toe-tapping that people often get up and dance in place. Try to meet Stevie Barr, a great young banjo player, at his folks' music store downtown. He's friendly and fun—and may even do some incredible pickin' for you. The New River Trail State Park runs along here, with bike and hiking paths.

The drive along the Blue Ridge Parkway from here is especially beautiful, with picturesque old Mabry mill, and vineyards where you can take rest stops. Abington Wineries offers tastings and fine food.
Abington

Centuries old buildings abound here. Most special is Barter Theater, the State Theater of Virginia, and the second oldest continuing drama venue in the country. Legend says there's a confederate ghost on premises. The Historic District is perfect for a self-guided walking tour.
Bristol—TN/VA: The state line runs through this town, known for railroads, car racing and, especially, as "Birthplace of Country Music" because of the 1927 RCA recording sessions here of the Carter family and Jimmie Rogers, the first ever for the regional music. The historic Paramount theatre downtown is the site of frequent concerts. You can learn about the past and present at the Birthplace of Country Music Museum.
Hiltons: For lovers of mountain music, Saturday nights mean a visit to the Carter Family Fold. Top musicians perform in a new amphitheatre, with people flat-foot dancing through the evening. Next-door is a small museum, and the original cabin where the family lived. The house of the late June Carter and her husband Johnny Cash are nearby; they spent part of the year here.
Clintwood: The Stanley brothers put soul into bluegrass, and the new Ralph Stanley Museum and Traditional Mountain Music Center honors the legendary Grammy-winning musician. He was a consultant on the movie, O Brother, Where Art Thou, which is filled with music of the area. I was fortunate enough to hear Dr. Ralph perform in Bristol. Now in his 80s, he's still a superb musician, and his son and grandson carry on the tradition.
FACTS: A long weekend will give you a taste of this special region and a chance to attend weekend shows in Galax and Hiltons; a week would be relaxing, and allow more time for poking around. If you fly into Roanoke, you can rent a car and drop it off in Bristol, where you can fly out. Try to spend Friday night near Galax, and Saturday night near Bristol/Hiltons to enjoy the nearby concerts.
Lodging suggestions: Roanoke, The Hotel Roanoke: historic and grand, near center -- Galax,: New River Trail Cabins: deluxe, with kitchens, whirlpools, some lofts, on New River--
Doctors Inn B&B: fab breakfasts, friendly hosts -- Abingdon, Martha Washington Inn: historic; great location -- Bristol: many motels to choose from.
More info: thecrookedroad.org, or virginia.org
AND, check out The 68th National Folk Festival in Richmond, VA, October12-15. Music, dance, storytelling, arts and crafts, more. Info: visitrichmond.com
_____
Great Fall Drive # 2: Old Yellowstone Highway
Long before anonymous interstates and the whirr of superhighway traffic, America's open roads promised drivers adventure and mystery. It was a time when the journey was more important than the destination. Nineteenth century pioneers crossing the Oregon-Mormon Trail arrived in Wind River Country to face one of the most formidable undertakings of their journey: the crossing of the Rocky Mountains. For many, it represented a vision of what the West could offer. Although the pioneers likely remembered Wind River Country for its challenges, visitors today will gain memories of breathtaking landscapes that are home to modern-day cowboys and Indians, outdoor enthusiasts and abundant wildlife.
Once named "The Oregon Trail", historic U.S. Highway 26, also known as Old Yellowstone Highway, offers a nostalgic, family-friendly alternative for drivers on their way to Yellowstone and Grand Teton national parks. This stretch of road, which can be accessed off Route 80 near Ogallala, Nebraska, winds through some of the West's most scenic country, over the ruts of the Oregon Trail and through unique Western towns.
The Old Yellowstone Highway sits in the shadows of busy, modern roadways. As soon as the highway touches Wyoming, visitors can follow in the footsteps of pioneers, mountain men, and Pony Express riders who paved this road west along the Oregon Trail and other routes. This history converges in Casper, Wyoming, where the National Historic Trails Interpretive Center provides visitors with information on the pioneers and the hardships they endured.
Entering Wind River Country in west central Wyoming, life seems to slow down. Family adventures along the Old Yellowstone Highway include Native American powwows on the Wind River Indian Reservation, a visit to the gravesite of Lewis and Clark's guide, Sacajawea near Fort Washakie, enjoying an old-fashioned ice cream soda in Shoshoni, a Mountainman Rendezvous in Riverton, or cowboy rodeos every Friday night in summer in Dubois.
A short side trip takes you to South Pass City State Historical Site where you can pan for real gold. Another attraction is Sinks Canyon State Park, located near Lander, which lets travelers experience the famous and mysterious disappearing river. Along the way, hiking, horseback riding, fishing, wildlife viewing, and whitewater rafting are also available for family members of all ages.
As Old Yellowstone Highway meanders toward Yellowstone and Grand Teton national parks, it joins the Togwotee Trail to Yellowstone, part of one of America's great scenic byways.
According to AAA, the 163-mile Centennial Scenic Byway on Togwotee Pass offers some of the most panoramic scenery in the country, and is where mountain men first saw the view of the jagged grandeur of the Tetons. Visit http://www.GoTogwoteeTrail.com or call 877-WYO-Trail for more information. To learn more about the adventures along Old Yellowstone Highway, contact the Wind River Visitors Council at 800-645-6233 or 307-856-7566 or email info@wind-river.org. For information on the Internet, about Highway 26, visit http://www.wind-river.org/hwy26, and, for seven self-guided driving tours of the area, visit http://www.wind-river.org/drivingtours.asp
_____
Great Fall Drive #3: Mt. Washington Valley, NH
When it comes to leaf-peeping, don't be fooled. There's more than one way to peep a leaf. Hail to the "peep" this fall with a visit to Mt. Washington Valley, located in the heart of New Hampshire's White Mountains. Offering not only spectacular foliage but a wide variety of ways to enjoy the harvest hues of Mother Nature's artistry, there's plenty of great ways to enjoy Mt. Washington Valley's fall foliage throughout this autumn. But remember, be sure to book your reservation right now or forever hold your peep. The early bird gets the best rooms!

Here are some conventional and a few unconventional suggestions for viewing Mt. Washington Valley's fall foliage.

From The Seat of a Train: Mt. Washington Valley offers a host of train rides. Book your seat on the Cog Railway and take this famous train ride to the top of Mt. Washington or enjoy fabulous scenic tours to Conway, Bartlett and Crawford Notch on the Conway Scenic Railroad. Visit http://www.mtwashingtonvalley.org/attractions.cfm for a complete list of Mt. Washington Valley's trains and attractions.

From the Top of the Notch: Scenic drives through Crawford Notch to Bretton Woods or Pinkham Notch to Gorham offer everything from ridgetop vistas and rock formations to moose sightings. Be sure to have the camera ready because around every turn there's a new surprise.

From the Moose Van: Take a ride along the picturesque Androscoggin River and into the 13-Mile woods area on this spectacular and scenic Moose/Wildlife Tour. As many as 23 moose have been spotted in one tour. Tours also includes folklore and historic features of the region. All tours start from the Gorham information Booth, and continue through October 9, 2006.

From a Gondola or Ski Lift: Fall is the time of year to take in the spectacular vistas from Mt. Washington Valley's mountaintops. For those who'd rather not hike up, take the lift. A scenic ride on the Wildcat Gondola or the high-speed quad at Attitash offers fabulous picnic grounds and views into Mt. Washington's Tuckerman Ravine or over the whole Bartlett region.

From the Pumpkin People or Scarecrow Tour: Each year, a highlight of foliage season is "the Return of the Pumpkin People". Businesses throughout Mt. Washington Valley create whimsical displays of pumpkin people; the only requirement being that the heads are made of pumpkins. Take a self guided tour of the pumpkin people and vote on your favorite from Oct 1-21, 2006. From September 30-October 9, view dozens of scary, pretty, and just plan fun scarecrows competing for more than $2500 in prize money as you hunt for fall bargains at Settlers' Green Outlet Village Plus. It's all kicked off with a free fall festival complete with hay rides, pumpkin carving and more on September 30.
From the Seat of a Car: Mt. Washington Valley is renowned for its fall foliage scenic drives, including the Kancamagus Highway, the country's only scenic byway loop. Take a Sunday drive through the mountains any day of the week and discover picnic sites, swimming holes, wildlife and family attractions along the way.
From the Base of a Waterfall: With all the rain we've seen this summer, not only will the foliage be lush, but the waterfalls will be rushing throughout the fall. Whether you bask in brooks tumbling over rocks offering fabulous swimming holes or take in New Hampshire's highest single waterfall, there's no time like fall to capture the grandeur of Mt. Washington Valley's "rock concert."

From a cozy B&B or family resort: Mt. Washington Valley is renowned for its variety of lodging. More than fifty country inns and B&Bs offer cozy and romantic retreats, while the region's motels, hostels and campgrounds provide getaways for those seeking getaways on a budget. Family resorts, condos, vacation rentals and timeshare properties round out the offerings, so there's something for everyone. Many of these lodging properties have created packages and itineraries for fall foliage getaways.
From the Seat of a Bike: Mt. Washington Valley offers ideal biking terrain from those looking for gentle backroads taking them through covered bridges and past farms and meadows to extreme off-road slick track. There are even inn to inn biking tours offered throughout the fall.

From the table in the dining room: Mt. Washington Valley offers more dining with a view than any other New England destination. Whether it's overlooking North Conway with Mt. Cranmore front and center from the White Mountain Hotel's dining room, to a fabulous view of the Moat Mountains and Presidentials from Darby Field Inn, you'll find spectacular dining with a view throughout Mt. Washington Valley. Try the Mount Washington Hotel at the base of the grand dame and finish it off with a flaming drink at the 1785 Inn with a view over the Intervale to the Presidentials.

Whether you put your foot to the pedal or the metal, don't forget to bring a camera, because the foliage in Mt Washington Valley is arguably the most exquisite in New England. For all your fall foliage planning information, visit www.mtwashingtonvalley.org or call 1-800-DO-SEE-NH (800-367-3364) for a free vacation planning guide.
_____
Sleep with Halloween Ghosts at Dozens of B&Bs
Once again, www.BedandBreakfast.com, has compiled a comprehensive list of B&Bs and inns where ghost seekers will enjoy spirited gatherings and potentially close encounters with the other world, bed-and-breakfast style. Although innkeepers are often afraid to share stories for fear other guests will be scared off, the following B&Bs dare to reveal their ghostly happenings. (And even if you travel solo, you may not sleep solo!)

WEST & SOUTHWEST

Red Garter B&B, Williams, AZ: This B&B's resident ghost, a former "lady of the night," still presides.

The Elms B&B, Calistoga, CA: The bride of the original owner still inhabits the former master bedroom.

The Groveland Hotel, Groveland, CA: An old gold-miner named Lyle prefers to hang around.

Riverside B&B, Oroville, CA: You'll hear ghost tales around the fire during Halloween.

Queen Anne Hotel, San Francisco, CA: This former school's headmistress apparently hasn't given up her role.

Weathertop Lodging, Silver Plume, CO: Inhabited by the ghost of a 19th-century miner who reminds guests of his presence by occasionally "rearranging" personal possessions.

Bottger Mansion of Old Town, Albuquerque, NM: Resident ghosts sigh, pace, and sometimes even dance.

Bliss Mansion, Carson City, NV: They say this is the place to rest in peace, and during Halloween, stories of paranormal activities and unwanted guests abound.

1888 Linburg House, Goliad, TX: Friendly spirits dwell here, but only appear when there's a wedding involved.

Prince Solms Inn Bed & Breakfast, New Braunfels, TX: Numerous sightings of a woman in her wedding dress; come hear the tale.

MIDWEST & GREAT LAKES STATES

The Blue Belle Inn, Saint Ansgar, IA: The original floor plans to the house were mistakenly taken to the dump, only to reappear later in the attic.

Old Bridge Inn, Jeffersonville, IN: Guests report seeing canes being picked up and twirled around, tea cups floating across the room, and several candles being raised up and set down on their own.

Inn at Aberdeen, Valparaiso, IN: Featured in the book Haunted Hoosier Trails, guests report seeing a little girl ghost, observed late at night on the master staircase.

Bingham Hall B&B, New Ulm, MN: A man named Jake has been seen by innkeepers standing in the doorway, never going in or out.

Hannibal Garden House B&B, Hannibal, MO: Hannibal, the boyhood home of Mark Twain and his fictitious characters Huck Finn and Tom Sawyer, is also home to playful spirits at this B&B.

Rivercene Mansion B&B, Boonville, MO: Not quite ready to leave, the son of a former owner is still hanging around playing pranks on guests and innkeepers.

Colonel Taylor Inn B&B, Cambridge, OH: The Colonel still roams the household, the smoke from his pipe lingering in this non-smoking inn.

C.M. Spitzer House Bed & Breakfast, Medina, OH: A story is told about a nosy female apparition who appeared with limited facial features except a heavy jaw. A story is told about a nosy female apparition who asked a lot of questions, then disappeared.

The Toal House B&B, Hot Springs, SD: Spirits delight guests with the scent of a flowery Victorian perfume or the aroma of vintage cigar smoke, but the encounter doesn't come to all visitors, only the lucky ones.

Honeybee Inn Bed & Breakfast, Horicon, WI: It's believed that a lumber baron named Coton is still hanging around with his female companions; his beloved rocking chair where he actually died rocks by itself.

SOUTH

1872 John Denham House, Monticello, FL: Not only is this 130-year-old National Historic Register B&B certifiably haunted, guests can explore another dimension during October Ghost Hunting Weekends.

Avera-Clarke House Bed & Breakfast, Monticello FL: Take this historic stroll, and you just might see ghostly vestiges of Honorable Judge Thomas Clarke, a local banker, appear in unusual ways.

Penny Farthing Inn, St. Augustine, FL: Ghost busters, guests and the innkeeper have confirmed it: there are plenty of playful spirits hanging around here.

Americus Garden Inn Bed & Breakfast, Americus, GA: A warm presence causes strange happenings at this pre-Civil war inn, and the innkeepers have made a science of capturing ghostly occurrences in photos and on tape.

Hummingbird House, Lexington, GA: A benign spirit, referred to as Sarah, watches over the B&B, turning on lights and radios to welcome the owners home.

Azalea Inn and Gardens, Savannah, GA: Photos taken by guests have revealed orbs, and for days one room stayed icy cold despite the heater.

Marshall House, Savannah, GA: Opened in 1851, this inn was used as a hospital twice during Savannah's 19th-century yellow fever epidemics and during the Civil War by the Union Army. Are they former patients who've been reported in the hallways and in the foyer? We'll never know.

Old Harbour Inn, Savannah, GA: Home to "Hank;" guests have reported smelling cigar smoke when no smokers were present, experiencing things moving around, witnessing coins dropping on the floor, and more.

Springhill B&B and Winery, Bloomfield, KY: Hear the many strange stories of chairs moving, doors opening, children's voices, and if you're lucky, get your picture taken with orbs flying about.

Central Park Bed & Breakfast, Louisville, KY: Located in the heart of Central Park, where numerous ghost sightings have been reported, this 1884 mansion has a few friendly spirits still roaming the halls.

5 Continents B&B, New Orleans, LA: In a city known for its ghosts, vampires and Voodoo culture, this inn promises not to disappoint guests with its offer to sleep with not only one spirit, but three.

Avenue Inn B&B, New Orleans, LA: Beds move and shake in the night, singing can be heard coming from the old nanny's quarters when no one is there, and strange power surges in computers have all been reported.

Castle Inn of New Orleans, New Orleans, LA: This B&B is "certifiably" haunted. The inn claims the ability to connect with its two active ghosts, a servant and a little girl, the two oldest guests.

Creole Gardens, New Orleans, LA: Ghosts don't like change, and when this building was restored as an inn, 400-pound doors slammed for no apparent reason, and bathroom tiles that had been neatly stacked were found scattered about the floor.

Chretien Point Plantation, Sunset, LA: There are stories about hauntings in every room of the mansion, including everyone from a Civil War General to a lady with a flowing white dress gliding across the room.

Magnolia Mansion, New Orleans, LA: Clearly, spirits here don't just come from Bourbon Street bars. Take off your slippers and you may hear footsteps out in the hall pacing until bare feet are covered for a more formal appearance.

The Rivers' Inn, Greenwood, MS: When Rose Marie Kennedy bought the inn, she was unaware of her unseen tenant, but within two weeks the midnight hammering on the plumbing and drawers emptied onto the floor made the ghost's presence unmistakable.

Katherine's B&B, Asheville, NC: Grace is the former owner's great-grandmother who died at the inn. She's an extremely friendly apparition, who just can't get enough good loving, today or in her past life. By the way, wherever Grace goes, her dog follows.

Twin Lakes Lodge, Greensboro NC: One guest reported a woman with a long flowing dress floating over the lake one night. Dismissing these visions as a dream, he awoke the next morning to find wet footsteps on his suite's otherwise dry deck coming up over the railing and to the window.

Carambola Inn B&B, Fuquay-Varina, NC: One ghost sighting included a friendly woman hovering about five inches off the ground. Come see for yourself.

Pinhook Plantation House B&B, Calhoun, TN: Tales of spirits abound here, including the "Lady in the Gray Gown" opening the front door and walking up the winding stairs, and the "Monk" and other ghosts holding a meeting in the Gathering Room late one night.

Franklin Pearson House, Cowan, TN: The Cowan area is widely known as a "hot spot" for ghost activity due to its rich, colorful history; this old railroad hotel is no exception and bustles with interesting yet harmless ghost activity.

Prospect Hill Bed & Breakfast, Mountain City, TN: A visit here may reveal a glimpse of a shadow disappearing around the corner, the distinctive cry of a baby, firm leather shoes going up and down the stairs, or the unexplained shattering of bathroom glasses flying into the air.

Black Horse Inn, Warrenton, VA: Four ghosts have been accounted for in this former Civil War hospital.

MID-ATLANTIC

Historic Reynolds Tavern, Annapolis, MD: When you stay at Historic Reynolds Tavern, you may be cared for by the innkeepers or by the ghost of Mary Reynolds herself.

Manchester Inn, Ocean Grove, NJ: Check in to room 316, and ghosts may literally pull your leg. It's been known to happen there, when a guest felt a tugging at her pants leg several times.

Angel Nook Inn, Ocean Grove, NJ: Was it a dream, or did someone touch a guest's elbow, then run their finger up and down her spine, after her husband left for an early morning run?

Battle Island Inn B&B, Fulton, NY: Whispers of "hello" and a child calling "Mom," baskets swinging on the walls, and placemats and forks moving from the table to a chair are just some of the games the welcoming ghosts play here.

Captain Schoonmaker's B&B, High Falls, NY: Starting with the comment "a funny thing happened last night," guests often share tales of how a candle was lit, a light was turned on, or they heard footsteps when no one was there.

Ancestors Inn, Liverpool, NY: Innkeepers Mary and Dan Weidman are quite sure that the original owners of this house are still present, glad to see a family return to what was once a dentist's office.

1871 House, New York, NY: One guest recounted a vivid story about awakening to find a well-dressed man wearing a bowler hat standing at the end of her bed.

Cornerstone B&B, Philadelphia, PA: A sweet, floral scent precedes sightings of a ghostly female shape at the Cornerstone.

NEW ENGLAND

Captain Grant's Inn, Poquetanuck, CT: Visitors to this historic 1754 inn are told when they arrive if they hear the loud knock at the door, they can answer if they like, but nobody will be there.

Penny House Inn, Eastham, MA: Home to the "Goodnight Ghost," along with other playful spirits, ghost stories from this inn are well documented in Haunted Houses of Cape Cod.

Lizzie Borden B&B, Fall River, MA: Stay here and you may be poked, prodded, pushed, pinched or even passed through. The innkeepers have seen and felt it all in this B&B named after the infamous ax-wielding Lizzie Borden.

Birchwood Inn, Lenox, MA: One guest swears a cat sat on his feet the first night, then it changed into a beautiful female apparition the second night.

Thaddeus Clapp House, Pittsfield, MA: Playwright Peter Bergman encountered the spirit that resides here when he was rehearsing a play in the B&B's drawing room, where the original owners held "parlor plays" in the 1800s.

Nichols Guest Rooms, Seekonk, MA: Shadows and strange sounds in the night, and lights mysteriously flickering on and off ensure that guests know that friendly spirits remain here.

Colonial House Inn and Restaurant, Yarmouth Port, MA: One guest recounted how he felt someone tapping him on the shoulder; when he looked up he saw a transparent figure of a woman wearing a bonnet.

Coach Stop Inn, Bar Harbor, ME: This former tavern and coach stop is home to Abbe, a spirited little girl who loves music

Greenville Inn, Greenville, ME: Last summer, a guest staying in the Carriage House Suite reported in full detail about her encounter with a lovely young female ghost.

Berry Manor Inn, Rockland, ME: Three older women were spotted in the front windows by paranormal investigators smiling with pinkies pointed into the air.

Captain Lindsey House, Rockland, ME: Captain Lindsey is still hanging around the Captain Lindsey House, along with 35 other spirits, according to what he told the "spiritologists" on their recent visit to the inn.

LimeRock Inn, Rockland, ME: When experts of the paranormal visited the LimeRock Inn, they felt the presence of many people in the front parlor – vestiges of the patients that once sat in the parlor waiting room, when the inn was home and office to Dr. Lawry, the local physician.

1794 Watchtide...by the Sea, Searsport, ME: Spirits reside here playing music and pranks on innkeepers and guests.

Carriage House Inn, Searsport, ME: A paranormal expert verified there are at least two entities living here, both of whom experienced untimely deaths.

Three Chimney's Inn, Durham, NH: Innkeeper Karen Meyer feels the presence of an "angel on her shoulder" here; one night after a particularly long week she received a clear message from her guardian angel.

Sugar Hill Inn, Franconia, NH: One evening, an elderly couple came to visit, then disappeared through a locked door.

Beal House, Littleton, NH: Slamming doors and late-night stomping up and down stairs allow the haunted dwellers of this inn to make their presence known.

Inn at Jackson, Jackson, NH: Jason, once the trusted workman at the inn, committed suicide as a young adult, yet returns to check on repairs at the inn.

Green Mountain Inn, Stowe, VT: Boots Berry, the tap dancing ghost and former local hero, can still be heard dancing on the third floor of the inn during severe winter storms.

Golden Stage Inn, Cavendish, VT: The innkeepers have become so familiar with the young friendly spirit who appears dressed in a traveling cloak and a large brimmed hat, that they've named him George.
For more Halloween packages and events, visit www.BedandBreakfast.com and click on Advanced Search. Choose Special Packages, then Halloween Happenings from the drop down box.
_____
Take Off, and (Maybe!) Take it All Off

Whether you're an arm-chair traveler, a die-hard nudist or someone who might skinny-dip at midnight in your (totally) private pool, here are super-luxurious places around the world to take it all off. Go with a significant other, good friends, or all by your non-lonesome self. We solo women have unlimited options, and this may be one you just might enjoy.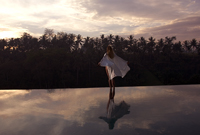 Viceroy Bali (Private Villas); Bali, Indonesia
Serene, exclusive, and superbly crafted, almost floating on a hillside overlooking a steep river gorge, this hideaway feels something like a cross between a temple and a work of art. Step into one of its cool and elegant villas, each with its own swimming pool and enclosed private garden. Our favorite is the waterfall wall in the Viceroy Villa. Haven't you always wanted to frolic au naturel in a waterfall?

Guana Island (North Beach Cottage); British Virgin Islands
Just how private can you get? Guana Island is a nature reserve with just one sybaritic resort with no more than 29 guests. For the ultimate in top-dropping privacy, rent North Beach Cottage. This beach house is nestled alone on a 1/3-mile stretch of white coral beach. The cottage includes a bedroom, separate living room, kitchen, bathroom, a natural sea pool, its own fresh water pool, and great views of the Atlantic.

Kamalame Cay (Kamalame Cove); Andros Island, Bahamas
Andros, in the Bahamas Out Islands, has a secret: a private resort on three uninterrupted miles of talcum-soft white sand surrounded by a fringe of palm trees and gorgeous gin-clear waters. And this secret has a secret: a narrow strip of sand leads to a tiny, four-acre atoll with a private villa, Kamalame Cove. This ultra-luxurious, sprawling plantation-style home has four bedrooms, a hot/cold outdoor shower, freshwater pool, staff of six, kitchen, and great views.

Hotel Punta Islita (Casitas); Guanacaste, Costa Rica
This resort is perched on a hilltop with one of those I-can't-put-words-to-it views of the Pacific. Rent a casita, a haven of relaxed and private luxury, where you can drink in ocean views from the hammock or Jacuzzi® on your terrace, or maybe even from the private pool. And you know what a private pool means? No tan lines and skinny-dipping at any hour.

Blancaneaux Lodge (Francis Coppola Villa); Cayo District, Belize
At this secluded retreat, the premier escape is the Francis Coppola Villa where the director's personal art and items are on display. Located along the river, the villa has two bedrooms, a large living area, outside deck, and a dining table that seats up to 14. Pretend you're a famous movie star (with a perfect body, of course) as you strut around in your birthday suit.

Bitter End Yacht Club (Freedom 30 and Estate House); Virgin Gorda, British Virgin Islands
This one-of-a-kind resort, in a secluded deepwater bay reachable only by boat, is a water-lover's wonderland with every kind of water sport imaginable. Charter one of the resort's Freedom 30 live-aboard yachts which are fully equipped for inter-island cruising; they accommodate four people and receive full hotel services and amenities while docked at BEYC. And nothing is more private than dropping your anchor in the middle of nowhere (so you can work on that tan-line-free tan). Don't have sea legs? Rent the private Grand Estate house.

Laluna (Cottages); St. George's, Grenada
Here, Italy (upscale amenities) meets Asia (clean lines) meets the Caribbean (easygoing atmosphere). The cottages have plunge pools and vistas of lush foliage and turquoise water at every turn. Whoever thought up the partly open bathrooms is a genius; you feel as if you're bathing au naturel, but with complete privacy.

Ladera Resort (Suites and Villas); Soufriere, St. Lucia
There's nothing between you and the views of jungle-clad volcanic peaks and Caribbean waves. That's because every room at Ladera has only three walls--the fourth is open, making you feel like you're living in a treehouse. And what a treehouse it is! Each of the suites and villas is different, each with their own plunge or swimming pools (some with waterfalls), and some kitchens. Want to imitate the Naked Chef? Go ahead--just be sure to wear an apron!

Hotel Villa Caletas (Master Suite and Villa); Puntarenas, Costa Rica
This tropical hideaway is perched high on an emerald-green cliff 1,150 feet above the Pacific Ocean, with stop-dead-in-your-tracks gorgeous views in every direction--a true mountaintop oasis. Rent its Master Suite or Villa and enjoy a private pool and Jacuzzi® . . . and we don't have to give you suggestions for how to enjoy them, do we?

Yasawa Island Resort (Drodrolagi Deluxe Bure); Yasawa, Fiji
Fijians have 15 words for "heaven"--and "yasawa" is the first of these. Envelope yourself in splendid isolation on this remote island, with no other resorts, no television, and no wake-up calls. Lomalagi Honeymoon Bure is a secluded beachfront bure that's a split-level with two decks that face west for beautiful sunsets, an outdoor shower, and a separate thatched beach hut with a double hammock and beach chairs. Make any vacation a honeymoon!

Windjammer Landing (Villas and Estate Villas); Labrelotte Bay, St. Lucia
Tucked among the trees on a hillside, you can be as private (and naked) as you please in your spacious villa. Each home-away-from-home is open to the Caribbean breezes, has a secluded terrace or sundeck, and many have their own plunge pools. And all you have to do is step out of your self-contained haven to find all the amenities of a top resort and every kind of activity.

La Samanna (Premium Beach Front 3BR Villa); Marigot, St. Martin
This peaceful and secluded luxury resort is built in an elegant Mediterranean style, and is surrounded by lush landscapes and miles of spectacular and pristine private beach. Its three-bedroom villas are situated steps from the beach and feature an ample living room with access to a private patio, plus an additional living room and private terrace in the second floor master suite, a separate kitchen, outdoor dining room, three bedrooms and three full size bathrooms.

Villas: They're everywhere you want to be
From Maine to Morocco, most villas allow for a certain degree of privacy; so consider renting a take-it-all-off home-away-from-home! www.hideaways.com
_____
Convert. To sweeten this summer experience even more, rent a convertible (if you don't already have one) to drive with the wind in your hair, and spend the night at a B&B or inn. I especially enjoy smaller accommodations where soloists can easily interact with fellow sojourners and friendly hosts. You'll be swapping stories and making friends without effort.
Dine casually or alfresco. Warm summer evenings beckon you outdoors. But many soloists would rather hole up with room service than venture out. Solutions to make it easier? Bring something to read or do. I like to wear sunglasses to glam up and look around. If dinner seems too daunting, do lunch, when eating alone seems easier. I usually come early so I don't have to make a big entrance.
Spa-rkler! Increasingly, spas cater to women and solo getaways. Whether at a luxury resort or a spartan clinic, the pampering, relaxing atmosphere lends itself to meeting others or just chilling. And massages are great treats. I've made lifelong friends lingering in a hot tub and sweating in a sauna. Soak and scrub till you're red, white and blue.
Go historic. America is filled with sites you may have wanted to visit. But are you waiting for someone to go with? Just do it. You don't need company to absorb the history. Bring a guidebook and take photos and notes to share with others – later. Visit a battlefield. Enjoy a history museum; poke around a president's birthplace. When I'm learning and daydreaming of times past, the hours fly.
_____
Ten Savvy Solo Travel Tips
Excerpts from Solo Traveler: Tales and Tips for Great Trips
Plan carefully. Planning leads to solo spontaneity, and can save $$.. For example, check out Farecast, an airfare search engine that predicts how much the price of an airline ticket will rise or fall over the coming days (www.farecast.com).
Budget. That way, even if there's a single supplement, you'll compensate. If you want to stay somewhere awhile, for free, consider housesitting.Three web sites for finding a gig are: housesitworld.com, caretaker.org, and housecarers.com.
Pack lightly. You're usually lugging the luggage.
Travel with pets. They make great road companions.
Be open to the world. It will (mostly) love you back if you smile and ask questions.
Stay savvy. Solo freedom demands common sense.
Trust your gut. Then your head. Then your heart. Then have fun!
Safety and health trump all. Don't be afraid about hurting others' feelings or changing plans.
Finesse eating alone. Eat main meals at lunch, bring things to do, come early, eat informally, get attitude.
Enjoy! You have the freedom and opportunity to meet the world.
_____
Hot Travel with Indulgent Packages for Solo Travelers (or With Others)
According to the Travel Industry Association, 75% of U.S. adult travelers (about 110 million of us) enjoyed cultural activities while traveling in the past three years. In addition, spas, skiing and other leisure activities lure travelers to relax..
Travel packages may not always be your thing, but they do save you time and effort (and money—although the following suggestions are definitely not inexpensive). Whether you're in the mood for a quick mid-week ski trip, a long weekend or a revitalizing respite, a travel package can indulge your independent heart to the max. And you deserve nothing less!
Because these divine destinations are top-of-the line, and based on double occupancy, we suggest you grab a friend, family member, or lover and share the bill and the decadence. Or you can find one of the many other places that are less expensive by searching the Web wherever in the world you want to go, and getting specific info about that area.
The main thing, solo lady, is to gift yourself with a truly special trip, and then don't wait -- go! Happy travels.
Newport, Rhode Island
You're smack-dab in Newport's legendary Gilded Age ambiance at The Chanler at Cliff Walk. The former summer mansion (c. 1865) of New York Congressman John Winthrop Chanler and his wife Margaret Astor Ward has been transformed into one of Newport's ultra-luxury hotels, with 20 individually designed guest rooms, many with Atlantic views.
(Enjoy Weekends at The Chanler, including a two-night weekend stay, seven course Chef's Tasting menu for two at Spiced Pear restaurant, and continental breakfast each morning. Starting at $1,080/double; available December 2, 2005-April 30, 2006. For info and reservations: (401) 847-1300; www.thechanler.com.)
Taos, New Mexico
Taos, near Sante Fe, is one the most exceptional western towns in America—filled with art galleries, boutiques and historic adobe architecture. Enjoying a relaxing winter getaway at El Monte Sagrado Living Resort & Spa, (Guest room rates begin at $325 per night/double, subject to availability. For info and reservations: (800) 828-TAOS; www.elmontesagrado.com).
Beverly Hills, California
Just strolling in the balmy air here is a great activity—and there are endless cultural pleasures and ethnic enclaves in LA, including the new Disney Concert Hall, designed by Frank Gehry, and the outstanding county art museum.Go with a group of friends or your extended family (or a very rich boyfriend!) to the Left Bank-inspired, Maison 140, a 43-room Kor Hotel Group property in the heart of Beverly Hills. For info and reservations: (800) 670-6182; www.maison140.com).

Petit St. Vincent (The Grenadines, Caribbean)
Here you can snorkel, swim, read and relax – on a private island - at Petit St.
Vincent in the Grenadines. The resort is introducing a new Yoga & Wellness Getaway, hoping to leave you as serene as a sea sponge swaying in the Caribbean. Partake of massages, facial care, yoga, meditation, as well as lifestyle evaluations and stress management consultations. You'll come back renewed.
Petit St. Vincent has two miles of white-sand beaches, calm blue waters, myriad water sports, beachfront cabanas, regional cuisine, and 22 comfortably luxurious cottages set apart for maximum privacy. For info and reservations: (800) 654-9326; www.psvresort.com.)
St. Moritz, Switzerland
Skiers - your search for new and extraordinary slopes combined with a spectacular Alpine retreat can end
here in St. Moritz. Tucked in the center of the village amid lake and mountain views, the landmark Badrutt's Palace offers peak access to challenging ski areas throughout the awesome Engadine region
Sample Badrutt's Ski St. Moritz package, one of a host of winter getaways, featuring three-nights accommodation for two in a Superior Room, daily buffet breakfast, complimentary minibar, daily set dinner at Le Restaurant or Trattoria, an after dinner drink and free entry into the King's Club - the hottest après-ski scene in town - and a two-day ski pass valid for the entire region, with complimentary shuttle to the ski lift. For info and reservations: 011-41-81-837-11-00; www.badruttspalace.com.
Be sure to blog travel experiences with us! Visit our blog and message boards and let us know where to go (or not go!).
_____
Lea's New York Dream Hotel for Solo Travelers

New York is a great city for singles traveling alone. Hotels are pricey, yes, but you might want to indulge. No one hotel offers the best of everything. Some come close, but we haven't found the Platonic ideal, so we cobbled together a list of top lodging elements. In typical New York style, you'll have to have serial hotel relationships to fulfill this fantasy. Or choose hotels based on what matters most to you. Here are highlight, from an article I wrote from Delta Shuttle magazine. L.L.
Public Rooms. Art deco symbolizes New York (think Chrysler Building, Empire State Building, Radio City), and the most deco-decadent hotel is the Waldorf Astoria. Kudos for that entry with the mosaic floor and raised side lounges, the lush restrooms, spiffy elevators and high-ceiling 1930s-style lobby, with plenty of plush seating for people-watching. Even the radiator covers are works of art. 301 Park Ave.; 800-waldorf, 212-355-3000.
Bar. Tough call. Much depends on the moment, and the cosmopolitan mix—and we don't just mean the drink. We like the aptly named, revolving View atop Broadway's Marriott Marquis; all the ultra-cool Ws; and Jack's at Le Parker Meridien, where you'll get a personal martini shaker. But if pressed against the barstools, last call goes to The Hotel Elysee's Monkey Bar. Playful simian murals, mix of celebs and age/style cohorts, midtown location, relaxing yet with-it atmosphere are why. 60 E. 54th; 800-535-9733, 212-753-1066.
Fitness Facilities. New York can't compete with Podunk in this category, and hotels usually take a pass, or at best, offer one to a nearby club. We like the Regal UN Plaza best. Tennis courts, swimming pool and a high-above-the-East-River panorama. 1 United Nations Plaza; 800-222-8888, 212-758-1234.
Room Service.Lots of hotels provide concierges, and round the clock omelettes, but the 24-hour-on-call butlers at The St. Regis make it our winner. These professional coddlers , not only order and bring you meals-- in bed, if you want, but they'll unpack and hang up your clothes, prepare drinks. Think of creative ways to use their services, and they'll buttle obligingly. 2 E. 55th St.; 800-759-7550, 212-753-4500.
View. Wherever you stay, ask for best possible view when booking. For bucolic glimpses of Central Park, hotels lining the east and south sides include the Park Lane and Sherry Netherland. Hotels in midtown or Murray Hill offer overviews of landmark buildings and the East River. We select the Ritz Carlton Battery Place for dramatic vistas of a reviving downtown, and New York Harbor. And, you get a yummy chocolate Lady Liberty. 25 Battery Place; 800-241-3333, 212-344-0800.
Bath. Tubs that fill in 60 seconds at The Four Seasons are our favorites. And the rest of the spacious, marbled bathroom ain't shabby either. 57 E. 57th St.; 800-332-3442, 212-758-5700.
Pet Amenities. Matching Burberry loaner raincoats for people and doggies at the Ritz Carlton Central Park are cool. For longer stays, The Envoy Club offers a "pet attaché" to attend to Fido's whims of kibble at midnight or rambles in the Park. And that's hard to beat. 377 E.33rd St.; 212-481-4600.
Bed and Pillows. Sleep is important at The Benjamin. A committee of managers lay on mattresses like in The Princess and the Pea, checking for just the right mix of firm and soft, and Serta customized a beaut. As for pillows--Down? Duck or goose? Maybe it is a touch obsessive, but at The Benjamin you get to choose from a pillow menu of 11 choices. And the "sleep concierge" will bring you warm milk and a white noise machine. 125 E. 50th St.; 888-423-6526, 212-715-2500.
Next To the Pillows. Apples, haikus with mints attached--we've seen them all on various New York beds and bedside tables. Our favorite? Goldfish. As in--a bowl of water. Request one at the SoHo Grande and you'll have a companion that looks good in the morning, and doesn't snore. 310 W. Broadway; 800-965-3000, 212-965-3000.
Etc. Minibar: the Royalton, with only the cool stuff, such as Chunky Kit Kats, Animal Crackers, Jila gum. Best-looking staff: for years now, at Morgans. Tea: Pierre, in that romantic rotunda with the blue-sky murals and selections from green to Lipton to infusions of mango and rose hips. Brunch: the penthouse of the Righa Royal. Japanese meals: Kitano. Theme: The Library, with guestrooms laid out according to the Dewy Decimal system, floor by floor, and appropriate books in each room. Breakfast: The Regency, still powerful after all these years as CEOS on the way up, or down, dig the well-spaced-tables and dig into the muffins and granola. Kitchenettes: any at the Manhattan Suites East. Amenity: In-room telescopes at Trump International, where you can peer into Central Park, or the room across the Park.

To find out more about any New York hotel, go to www.nyvisit.com
_____